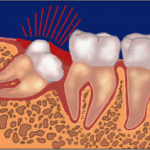 Warning Signs of Impacted Wisdom Teeth
Wisdom teeth, or third molars, are the last teeth to develop and appear in your mouth.  They typically come in between the ages of 17 and 25, a time of life that has been called the "Age of Wisdom."   These teeth can often grow in crooked, sideways, or otherwise misaligned.  As they grow in, they can push on other teeth, causing problems of overcrowding.
When wisdom teeth come in, they can be painful.  You'll feel wisdom teeth pain at the back of your mouth, behind your molars.  If you look into a mirror, you may even notice that your wisdom teeth have begun to poke through your gums.  The area might also be red, enflamed and tender to the touch.  However some people don't have any visible symptoms of wisdom teeth pain.
When a tooth doesn't fully grow in, it's called "impacted"–usually unable to break through the gums because there isn't enough room.  About 90% of people have at least one impacted wisdom tooth.
An impacted wisdom tooth can damage neighboring teeth or become infected. Since it's in an area that's hard to clean, it can also invite bacteria that lead to gum disease.  In some cases, a cyst can form around the base of the impacted tooth, which can lead to more serious problems.
Dr. Tillman recommends removing them when there are infections and/or periodontal (gum) disease, cavities that can't be restored or there is damage to neighboring teeth and overcrowding.  This is a common procedure that Dr. Tillman performs in the office and typically only a few days of rest are needed before returning to your normal routine.