Porcelain Veneers and Lumineers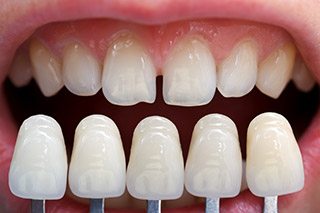 Do your imperfect teeth cause you to feel insecure about your appearance? Do you find yourself hiding your mouth when speaking or smiling? If so, you can revamp your confidence and get the smile of your dreams with your cosmetic dentist, Dr. David Tillman. With porcelain veneers or Lumineers, you can get perfect teeth using a simple, yet effective solution.
What are Porcelain Veneers?
Veneers are thin shells that are bonded to the front surfaces of your teeth to instantly cover the imperfections that cause you to feel insecure. They are versatile, allowing them to be used to resolve several issues, like dark tooth discoloration, chips, cracks, gaps, and miner alignment concerns. Overall, they improve the size, shape, and proportion of your teeth.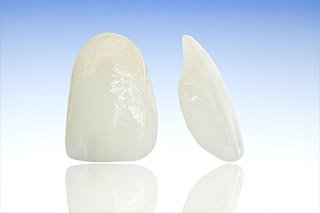 Now, porcelain has become the preferred material. Not only does it closely look like your enamel for natural-looking results, but it also allows the veneers to be thinner. As a result, less of the tooth's structure is removed during the bonding process.
After your teeth have been prepared, impressions are taken to create your custom-made smile. It will take the dental lab about two weeks to make them. During this time, temporary ones will be attached. When your final veneers are ready, you will return to have them bonded in place. With the right care, they can last for as long as 10 years before needing to be replaced.
Using a minimally invasive procedure, you will have the smile that you have always wanted in as little as two appointments.
What are Lumineers?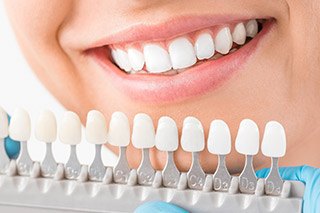 Lumineers are like veneers; however, they are much thinner. They are offer the same benefits as veneers to correct tooth discoloration, chips, gaps, and cracks. There is one key difference between the two.
Since Lumineers are much thinner than traditional veneers, they require little to no preparation at all. In fact, they can be directly bonded to your teeth without having to etch their surfaces. Unlike regular veneers, they are noninvasive and can often be reversed because the structure of your teeth is not altered.
You will have your new smile after just a single appointment. There is no need for temporary veneers or a second appointment. While they are beneficial, they often do not last for as long as porcelain veneers. As a result, you will need to have them replaced sooner.
Which is Right for Me?
Both options provide an effective means to restore your confidence with an attractive smile. To help determine which option is right for you, Dr. Tillman will perform a comprehensive consultation. He will take the time to discuss your preferences, lifestyle, and the results you want to achieve to help you make an educated decision.
Invest in Your Confidence Today
If you are tired of hiding behind flawed teeth, you can get the smile that you have always wanted with porcelain veneers or Lumineers. Dr. Tillman will create a customized treatment plan to improve your smile using a safe, effective procedure. Contact our office today to schedule your consultation for a new smile.
Understanding the Cost of Veneers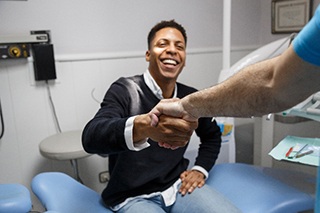 At first, understanding the cost of veneers can seem a bit complicated since each treatment plan is 100% personalized to the patient's unique smile goals. The good news is that our Fort Worth dental team is here to help make understanding the price easy. At your initial appointment, we will learn more about your aesthetic concerns, review the factors that impact the cost, share the financial solutions available, and answer any questions you have. If you want to learn more on the topic before then, keep reading!
Cost vs. Cosmetic Dentistry: What's Right For Me?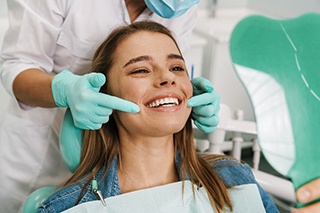 Before committing to any treatment – whether it's preventive, restorative, or cosmetic – it's important to understand your options. With this in mind, here are four of the most popular smile-enhancing treatments and some cost-related information to keep in mind when comparing them to veneers:
Braces – If minor misalignment is your concern, then Dr. Tillman can improve the look and function of your smile with Invisalign or veneers. When comparing the price of these treatments, it's important to remember that veneers can fix more than just the position of your teeth; they can also correct their shape and color. So, if you are concerned about those aspects of your smile as well, it may be better to choose veneers.
Teeth Whitening – If your main concern with your smile is stubborn stains, then professional teeth whitening is far superior to any products you'll find over the counter. With that said, there are some limitations. For example, if you have permanent discoloration, then veneers may be the only option to get your smile to the desired shade. Plus, veneers have a significantly longer lifespan (well over a decade, if you care for them properly), while the results of teeth whitening treatments usually last a few years at most.
Direct Bonding – Like veneers, direct bonding can fix multiple aspects of your smile, from the size and shape to the color of your teeth. While the upfront cost is pretty affordable, it is important to consider the longevity of your results as well. Again, they won't last anywhere near as long as veneers, so keep that in mind when making your decision.
Lumineers – Lumineers are very similar to veneers, which is one of the many reasons that patients love this lifelike and durable cosmetic dental treatment. Perhaps even better, they don't require your natural teeth to be altered in any way, which means that you can remove them any time you choose. If you want a detailed comparison of the price of Lumineers and the price of veneers, then give us a call.
How to Make Veneers Affordable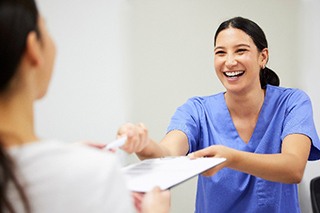 If you want to learn more about how to make the cost of veneers affordable, then don't hesitate to ask our team! We're proud to offer our patients in Fort Worth multiple solutions, including our periodic special offers. We also are happy to welcome CareCredit, which allows you to space out your payments instead of paying for the entire cost at one time.
Schedule an Appointment
Are you ready to experience exceptional dental care? Call our office to schedule your next appointment with Dr. Tillman. Our office provides quality general, cosmetic, and restorative dental care to Fort Worth, Aledo, and all surrounding communities.