Porcelain Veneers and Lumineers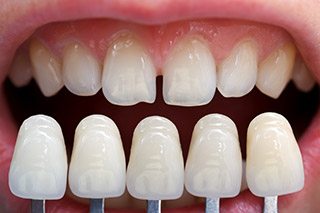 Do your imperfect teeth cause you to feel insecure about your appearance? Do you find yourself hiding your mouth when speaking or smiling? If so, you can revamp your confidence and get the smile of your dreams with your cosmetic dentist, Dr. David Tillman. With porcelain veneers or Lumineers, you can get perfect teeth using a simple, yet effective solution.
What are Porcelain Veneers?
Veneers are thin shells that are bonded to the front surfaces of your teeth to instantly cover the imperfections that cause you to feel insecure. They are versatile, allowing them to be used to resolve several issues, like dark tooth discoloration, chips, cracks, gaps, and miner alignment concerns. Overall, they improve the size, shape, and proportion of your teeth.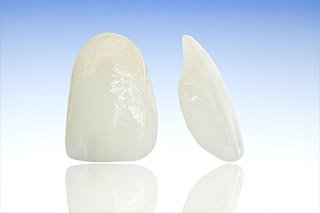 Now, porcelain has become the preferred material. Not only does it closely look like your enamel for natural-looking results, but it also allows the veneers to be thinner. As a result, less of the tooth's structure is removed during the bonding process.
After your teeth have been prepared, impressions are taken to create your custom-made smile. It will take the dental lab about two weeks to make them. During this time, temporary ones will be attached. When your final veneers are ready, you will return to have them bonded in place. With the right care, they can last for as long as 10 years before needing to be replaced.
Using a minimally invasive procedure, you will have the smile that you have always wanted in as little as two appointments.
What are Lumineers?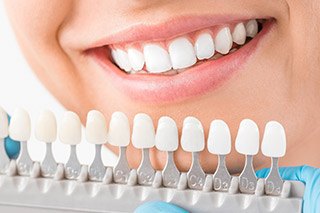 Lumineers are like veneers; however, they are much thinner. They are offer the same benefits as veneers to correct tooth discoloration, chips, gaps, and cracks. There is one key difference between the two.
Since Lumineers are much thinner than traditional veneers, they require little to no preparation at all. In fact, they can be directly bonded to your teeth without having to etch their surfaces. Unlike regular veneers, they are noninvasive and can often be reversed because the structure of your teeth is not altered.
You will have your new smile after just a single appointment. There is no need for temporary veneers or a second appointment. While they are beneficial, they often do not last for as long as porcelain veneers. As a result, you will need to have them replaced sooner.
Which is Right for Me?
Both options provide an effective means to restore your confidence with an attractive smile. To help determine which option is right for you, Dr. Tillman will perform a comprehensive consultation. He will take the time to discuss your preferences, lifestyle, and the results you want to achieve to help you make an educated decision.
Invest in Your Confidence Today
If you are tired of hiding behind flawed teeth, you can get the smile that you have always wanted with porcelain veneers or Lumineers. Dr. Tillman will create a customized treatment plan to improve your smile using a safe, effective procedure. Contact our office today to schedule your consultation for a new smile.