Dental Implants — Fort Worth, TX
Rebuild Your Smile with Dental Implants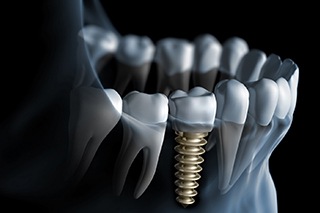 Why Choose David Tillman D.D.S. for Dental Implants?
Performs Placement and Restoration Phases In-House
Advanced Technology in Modern Dental Office
Multiple In-Network Insurance Plans and Affordable Financing
What Are Dental Implants?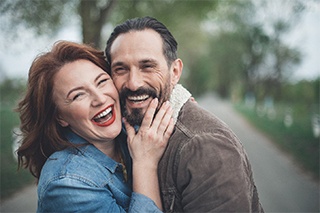 Dental implants are replacements for missing teeth. They mimic the form and function of a tooth so closely that you probably won't be able to tell the difference between them and your natural teeth. A single dental implant is most often made of a titanium post that is embedded in your jawbone. Then, an abutment connects the implant to your tooth restoration, which could be a crown, bridge or denture. After the implant has fully healed, you can expect eating your favorite foods, practicing oral care, and basic tasks like smiling and speaking to feel incredibly natural. These are just a few of the reasons why Dr. Tillman and most dentists around the world recommend them over other solutions.
The Dental Implant Process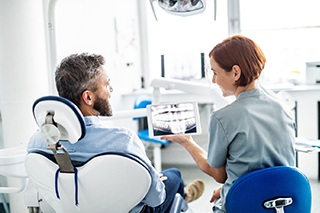 If dental implants are the best option for you, we would be happy to discuss your next steps. Treatment with dental implants is completed in two phases. In the first phase, one or more implant posts will be inserted into your jaw. After your jaw has healed, your new prosthetic will be attached to the posts, completing your procedure and restoring your oral health.
Besides earning his dental degree, Dr. Tillman has undergone 3 additional years of training in implant dentistry and bone grafting to handle each step in your treatment plan right here in our office. You'll save time and money with complete care under one roof.
Benefits of Dental Implants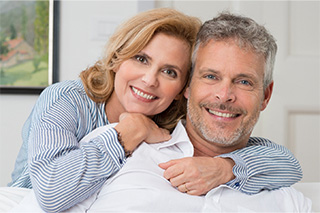 Day-to-Day Benefits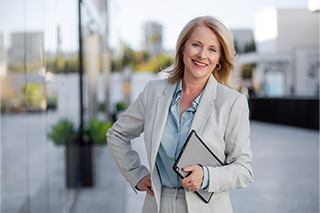 Looks natural using all-ceramic material: The restorations we use to cover your dental implants are color-matched to your existing teeth to ensure they blend in exactly. This is the case whether you're receiving a single crown, bridge, or denture to replace your teeth.
Supports facial tissues: Tooth loss does not only affect the appearance of your smile. It can also impact your overall facial appearance. Once dental implants are placed, blood flow to the gums increases. This reduces facial sagging and hollowing of the cheeks, two common side effects of tooth loss.
Easy at-home maintenance: Brushing and flossing your dental implants feels almost indistinguishable from cleaning your natural teeth. By maintaining consistent oral care at home, you can keep plaque from collecting on your implant restorations or the gum tissue surrounding your replacement tooth.
Health Benefits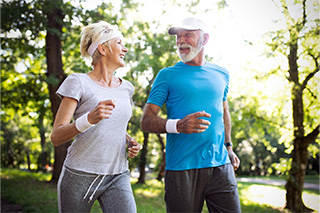 Regain as much as 70% of your natural biting force: Dentures may be able to replace many teeth at a time, but they won't do many favors for your biting force. As dental implants stimulate your jawbone tissue, chewing your favorite foods feels natural again.
Preserves your jawbone's density: Jawbone tissue will begin to atrophy when teeth are lost. This means they will shrink and break down. Once the implant has healed and fused with your bone tissue, you can expect your jawbone to retain its shape. This is why we often recommend dental implant surgery relatively soon after teeth are extracted.
Prevent dental drift: After teeth are lost, remaining teeth will begin to shift into the open space in order to compensate. This side effect can cause the teeth to become dramatically misaligned over time. Dental implants keep any remaining teeth from moving and keep your smile straight and your bite even.
Long-Term Benefits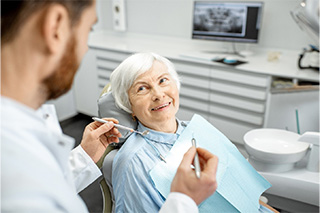 Over a 95% success rate: When you want a reliable solution to severe tooth loss, you won't find any treatment better than dental implants. With such a high success rate, you can have confidence knowing your tooth replacement will serve you well.
Cost-effective: Other tooth replacement options, including dental bridges and dentures, don't carry the same longevity as dental implants. It's true that dental implants cost more upfront, but this can save you money on replacement restorations (bridges require replacement every 10 to 15 years, while dentures need replacement every 5 to 7 years).
Provides decades of function: Dental implants generally last 30 years and longer, which means they can potentially last for the rest of your life when you take proper care of them.
Who Dental Implants Can Help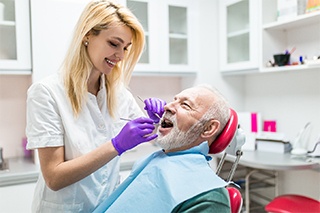 Implants are incredibly versatile. They can be paired with a single crown, a bridge, a partial, or a full denture. No matter how many teeth you need to replace, dental implants can help.
Who Is a Good Candidate for Dental Implants?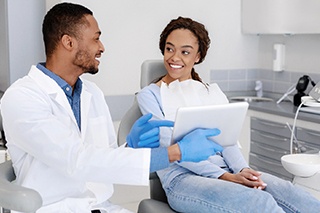 For the most part, just about all of the patients we see turn out to qualify for dental implants. However, there are a few guidelines. First, you must be in overall good health because receiving dental implants does require oral surgery. In addition, wanting dental implants is another good reason not to be a smoker. Tobacco use can impede the healing process after surgery. Finally, you'll need to have enough bone volume in your jaw to support the dental implant. Dr. Tillman will check this during your pre-exam.
Missing One Tooth
An implant post, an abutment, and a custom-made crown replace the entire structure of a missing tooth. It will blend in seamlessly with your teeth, so no one will know it isn't your own.
Missing Multiple Teeth
A bridge of prosthetic teeth is created to fill the empty space. It's held in place using a dental implant at either end, so there's no need to alter healthy teeth.
Missing All Teeth
An average of 4 to 8 implant posts secure your denture to your jawbone. You'll never need to worry about any slipping or irritation again!
Learn More About Implant Dentures
Understanding the Cost of Dental Implants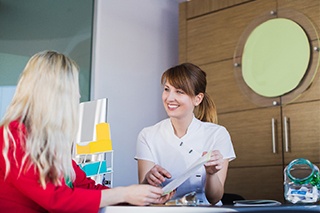 If you're dealing with tooth loss, then Dr. Tillman may have already talked to you about the advantages of dental implants. Now there is just one more question: What is the cost of dental implants in Fort Worth?
On average, a single dental implant will cost between $1500 and $2000. But don't base your decision on the price tag only. There are other factors to consider.
Preliminary Treatments & Dental Implant Surgery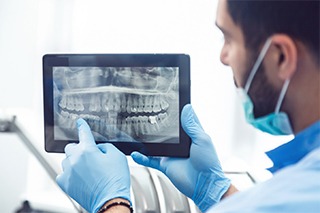 Sometimes, preparatory dental work is needed before implants can be placed in your jaw. For example, you may have some teeth that need extraction. Also, bone and tissue graft surgeries may be required to strengthen your gums and jawbone so they are sturdy enough to hold dental implants in place. The fee for these procedures affects the total cost of your dental implants.
The Cost of a Tooth Restoration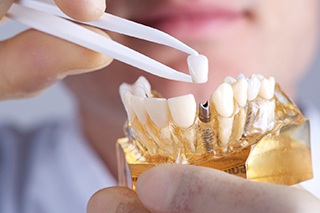 Additionally, the total cost of dental implants depends on the type of restoration you need. If you need to replace one missing tooth, a single dental crown typically runs between $500 and $1500. To replace several teeth in a row, a bridge costs between $3000 and $4000. And partial and full dentures are $2500 to $5000 or more.
How Dental Implants Can Save You Money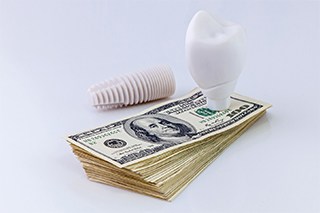 People that wear dentures or a bridge will eventually need to repair and replace these removable prosthetics. That's because they rest on your gum ridge, which changes shape over the years. Dental implants, on the other hand, can last for decades. In fact, you can have a dental implant for the rest of your life if you brush and floss daily and attend regularly scheduled dental checkups every six months with your dentist in Fort Worth. Hence, the cost of dental implants could be less in the long run when compared to other types of prosthetics that require continual maintenance and eventual replacement.
Does My Dental Insurance Cover Dental Implants?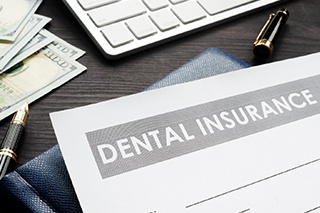 If you have dental insurance, be sure to check the details of your benefits plan. There may be partial coverage for these types of procedures.