Implant-Retained Dentures – Fort Worth, TX
Secure Your Denture with Dental Implants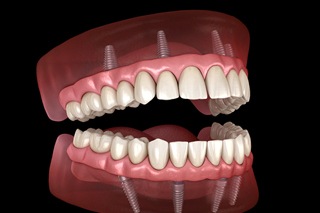 How Do Implant-Retained Dentures Work?
A traditional denture is created from an impression of your mouth to make an acrylic base to hold your replacement teeth. It's held in place using an adhesive or suction. Now, they look and feel more natural than ever, but they will always have their limitations. Dental implants can resolve the common complaints of a conventional denture.
An average of 4 to 8 titanium posts are surgically placed into your jawbone to support your denture. This provides unmatched security and stability when compared to a traditional denture. Not to mention, dental implants in Fort Worth can last for a lifetime with the right aftercare, so you'll never need to worry about having them replaced.
Am I a Candidate for Implant-Retained Dentures?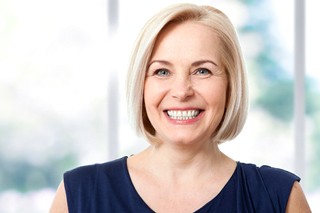 The Implant-Retained Dentures Procedure
The process to rebuild your smile with an implant-retained denture will take several months, but it's time well spent to enjoy a solution that closely looks and feels natural. After you've healed from any previous treatments, you're scheduled to have your implant placement surgery.
While under sedation or anesthesia, your gum tissue is opened to gain access to your jawbone. Small holes are strategically drilled into it to insert each post. Your tissue is stitched closed, and you'll spend the next several months healing.
The posts stimulate your jaw to encourage new bone growth. Over the next several weeks, your jawbone fuses to the posts, so you'll never need to worry about any slipping or irritation. After your jaw has healed, special fixtures are placed on each post to connect your custom-made denture.
Benefits of Implant-Supported Dentures
Supporting your denture with dental implants provides unmatched benefits, including:
Over a 95% success rate.
Looks natural.
Regain 70% of your biting force.
Preserves your jawbone's density.
Supports your facial tissues.
No slipping or irritation.
Easy maintenance and care.
Cost-effective, long-term solution.
Schedule Your Consultation Today!
You don't need to live with a less than perfect smile. Get the next best thing to your real teeth with an implant-supported denture. Contact our office today to schedule your consultation.