Invisalign Clear Aligners in Fort Worth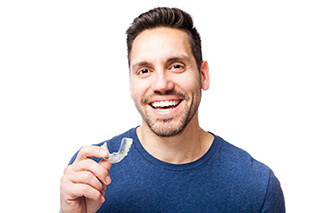 Adult braces are becoming an increasingly common choice for older patients wanting to undergo orthodontic treatment. Options like Invisalign offer a fast, practically invisible solution to dental misalignments, and your dentist in Fort Worth offers older teens and adults this wonderful option for straightening teeth. Learn more about the Invisalign treatment, and learn why nearly one million Americans over the age of 18 are choosing adult braces for smiles that look (and function) better!
What Is Invisalign, and How Does It Work?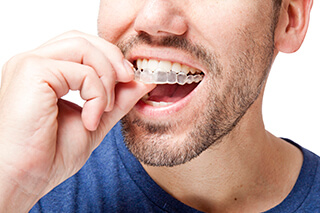 The Invisalign system consists of a series of clear plastic aligners that put pressure on certain points of your teeth throughout the treatment. The smooth, plastic aligners are custom fit to correct your unique bite, and you wear each one for about two weeks before advancing to the next in the system. The average Invisalign treatment lasts about one year.
Invisalign is a good option for correcting some of the most common orthodontic issues, including:
Crowded teeth
Gapped teeth
Overbite, when the top teeth reach too far over the bottom teeth
Underbite, when the bottom teeth cover the top teeth
Crossbite, when the top and bottom teeth don't fit together properly
Most patients with minor to moderate orthodontic issues are good candidates for the Invisalign system. An initial checkup should be performed to ensure teeth and gums are healthy before undergoing orthodontic treatment.
Comparing Invisalign and Traditional Braces
For adults weighing their orthodontic options, Invisalign often offers the most significant benefits. Let's take a look at the key differences between traditional orthodontics and clear braces with Invisalign.
Traditional Braces
Metal braces are highly noticeable in the smile
Require modifications to diet
Create barriers to brushing and flossing
Malfunctions require emergency appointments
Often associated with blisters and discomfort
Invisalign
Clear plastic aligners are practically invisible
Are removed before meals and snacks
Removable aligners mean easy cleaning
Durable aligners are less prone to accidents
Very comfortable in the mouth
When considering the differences between Invisalign and traditional metal braces, most busy adults agree that the benefits of Invisalign far outweigh those of the alternative.
Caring For Your Invisalign Aligners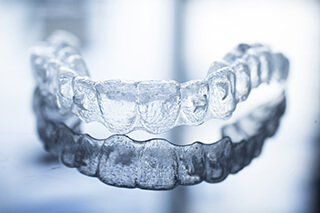 Once you've begun treatment for Invisalign, it's important that you keep your aligners clean to prevent bad breath and an increased risk of tooth decay. Fortunately, it's not so difficult to keep the trays clean -- just make sure you're rinsing them upon each removal, as dried saliva and plaque cause serious odor issues. And when you're not wearing your aligners, soak them in a denture cleaner or with the special Invisalign cleaning crystals to keep them as fresh as possible. Brush your aligners gently with a clear anti-bacterial soap before reinserting them into the mouth.
Invisalign FAQs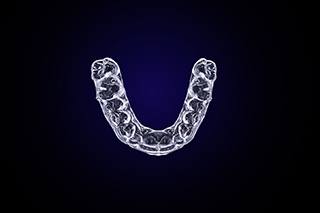 Invisalign in Fort Worth is a great solution to get straight teeth without brackets and wires. Although you're excited to start your journey to a beautiful smile, we know you're also a little apprehensive. There isn't any reason to worry. We'll explain the entire process during your initial consultation so you know what to expect. While you wait for your visit, here are the answers to a few of the most common questions patients ask us about Invisalign to help you feel confident in the decision you're making for your smile.
How long will I need to wear the aligners?
There isn't any way to determine how long you'll need to wear your aligners without first performing a consultation; however, most patients are finished with their series in about 12 months. Generally, patients who have complex needs can expect their treatment to take longer because they will require more aligners than a patient who only needs minor adjustments. Age also influences the duration. Since teens are often still growing and developing, they often achieve their goals quicker than adults.
To ensure timely delays aren't added to your plan, it's best to wear your aligners for at least 22 hours per day. Be sure to switch to the next one on time, about every week. You should not switch to a new aligner too soon because rushing your treatment can lead to time-consuming delays and unnecessary complications.
Is Invisalign painful?
When beginning any orthodontic treatment, you can expect there to be slight discomfort from the pressure applied to your teeth, but it can be managed with an over-the-counter pain reliever. Any pain is temporary, which can occur after switching to a new aligner.
Many patients report Invisalign to be more comfortable than metal braces because there aren't any brackets or wires irritating the inside of the lips or cheeks. In addition, the aligners are custom-fit, so you don't need to worry about any slipping or irritation when you speak.
How much does Invisalign cost?
There isn't a set fee for Invisalign because the price is based on several factors, like the complexity of your case. Patients who need more aligners can expect their treatment to cost more. We'll provide you with a custom estimate during your initial consultation and explain the fees associated with your plan. A member of our team will take the time to discuss your payment options, like third-party financing. You're given the funds you need, which you'll repay using a plan that accommodates your budget.
Can I use my dental insurance to pay for Invisalign?
Every policy is unique, but many insurance carriers that offer coverage for orthodontics can help offset the cost of Invisalign. We know dental insurance is confusing, but you don't need to navigate your policy alone. A member of our team will work on your behalf with your insurance company to file the necessary claim forms. We will explain how your benefits are being used to pay for your new smile and if you owe a remaining balance.
Learn More Today!
Are you intrigued by the promise of discreet orthodontic treatment? If so, don't wait to learn more about Invisalign -- including whether or not the treatment might be the right solution for your dental misalignments. Please contact David Tillman DDS to request your appointment today!