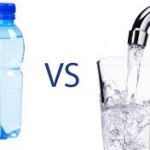 Is Bottled Water Bad for My Teeth??
Millions of Americans are embracing a healthy lifestyle and turning to bottled water as part of their diet.  Bottled water is often marketed as being better for you, but it may be doing your teeth a disservice.  Your bottled water could be missing some elements that promote oral health.
Fluoride (which many communities have added to their water supply), battles dental cavities by  strengthening tooth enamel and re-mineralizing teeth damaged by acid.  Unfortunately, the majority of bottled waters contain little or no fluoride.
If you're deviating from your fluoridated community water supply, you may need to improvise to get your daily fluoride content.  You can discuss your water sources, along with the appropriate level of fluoride you and your family should be getting, with   Dr. Tillman.  If you just can't go back to the tap, Dr. Tillman may recommend a fluoride toothpaste or prescribe fluoride drops to help meet your needs.
The next time you buy a bottle of water or use a filtration system, think about your teeth, too.  Fluoride helps prevent cavities, and since dental health is linked to overall health, you'll want to take the right steps to keep your mouth in great shape.  Talk to Dr. Tillman about the benefits of fluoride, and include dental care in your plans for a healthy lifestyle.  After all, you've worked hard for that body –why not have a great set of teeth to go with it?