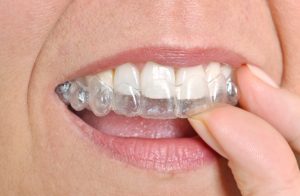 Maybe you had braces as a teen and have noticed your teeth shifting back into the original position. Or perhaps you never had orthodontic treatment at all — either way, it's never too late to get the smile you want. Invisalign is the clear braces solution that reveals results subtly, and in less time than traditional metal braces. Dr. Tillman offers Invisalign in Fort Worth, TX. Learn more about the popular option in cosmetic dentistry today!
How Does Invisalign Work?
You have probably heard something about Invisalign, the clear braces treatment for teens and adults. The FDA-approved system is now celebrating 4 million smiles served all over the world.
It works pretty simply — your unique smile information is used to create a series of clear, plastic aligners that gradually shift the teeth into their proper position. You wear each tray for two weeks before advancing to the next in the series.
Most adult Invisalign treatments are completed in just one year, or almost half the time of the average treatment for traditional braces. So in addition to enjoying a more discreet treatment, you'll be finished with your clear braces before you (or anyone else) knows it.
What Are the Benefits of Invisalign vs. Metal Braces?
If you are weighing your options between Invisalign and traditional braces, consider the following advantages of treatment with clear aligners. Both choices give you the same end result — straighter teeth and a more confident smile — but nothing does so quite as discreetly as Invisalign. The advantages associated with clear braces include…
Subtle orthodontic treatment allows for complete smile confidence

Removable trays allow you to continue eating what you like

Brush and floss without barriers to dental hygiene

Smooth plastic won't rub blisters in the cheeks or on the tongue
Above all, most busy adults enjoy the convenience of Invisalign. It requires fewer visits to the dentist overall — just come into the office every six weeks to make sure things are progressing as they should, and you will be finished with your treatment before you know it. And because you are unlikely to experience an emergency situation with removable plastic aligners, you'll never need to schedule an urgent appointment for a popped off bracket or wire during the Invisalign treatment.
Is Invisalign Right for Me?
Many patients who wish to straighten their teeth with Invisalign are indeed good candidates for the treatment. It is an effective solution for the most common orthodontic issues, including overbite, crossbite, underbite, as well as gapped or crowded teeth. The most severe misalignments, however, may be better suited by traditional metal braces. You and your cosmetic dentist in Fort Worth, TX can further discuss Invisalign vs. metal braces to determine which is best for your unique smile.
How Can I Get Started With Invisalign?
Get in touch with Dr. Tillman's office to discuss Invisalign. If clear braces are a good option for correcting your bite, we can get started discussing your treatment plan immediately! Request an appointment online to talk about Invisalign today.