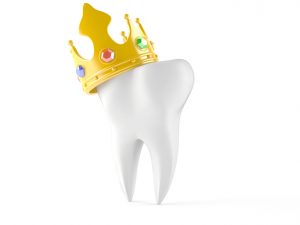 It's a beautiful day in Fort Worth and you drove along I-820 enjoying the breeze, clear skies, and wide open spaces Texas is famous for. Since you're a little hungry, you stop at Tacusa for a few of their famous street tacos. You're enjoying the delicious barbacoa – you take the next bite, only to experience the exact opposite of what you were expecting: severe pain. After checking in the bathroom mirror, it looks like your one of your teeth is now broken. You want this fixed, and fast. Who can you see for a same-day dental crown in Fort Worth, TX? Dr. David Tillman offers revolutionary CEREC dental crown technology and makes waiting for a permanent crown a thing of the past.
Why CEREC?
Traditional crowns are generally a lengthy process. At your first visit, your tooth would be prepared, you'd have molded impression taken, and that impression would be sent off to the lab. Your dentist would then place a temporary crown and send you home. Then, the waiting game would start. After the lab finally completes your crown, you'd go back to the office for a second visit to have the permanent crown placed.
While traditional crowns work just fine, there is a true difference in the patient experience when visiting Dr. Tillman as your dentist in Fort Worth, TX. Who wants to come back for another visit when modern technology makes waiting for a second appointment unnecessary? CEREC offers a convenient, long-lasting solution without the messy impression in the very same office visit. And, since CEREC crowns are made of porcelain, they look better than metal alloy crowns (e.g. gold and silver) and they're long-lasting and biocompatible, too.
What Is CEREC?
CEREC is an innovative technology that's been thoroughly researched and shown to be highly effective in creating high-quality dental crowns. CEREC stands for a mouthful – Chairside Economical Restoration of Esthetic Ceramics (also known as CE-ramic REC-onstruction). Basically, the CEREC system follows these steps:
A digital camera takes a detailed picture of your mouth and the tooth that needs to be repaired.
Advanced computer software converts that picture into the dental crown that's right for you.
Your tooth is prepared to have the CEREC crown placed.
An in-office milling unit carves that perfectly designed crown into a reality by creating it from a single block of porcelain – all right there in Dr. Tillman's office, at the same appointment.Does CEREC Really Work?
Now that you understand how CEREC dental crowns work, you might be wondering if these same-day crowns are real, safe, and effective, or just something of dental science fiction. See for yourself by watching this video on how CEREC works.
So, you've seen for yourself how amazing, effective, and time-saving CEREC dental crowns are. Schedule your appointment with Dr. David Tillman, the premier source for CEREC crowns in Fort Worth, TX. You'll be back to enjoying all the treats Texas offers in no time!