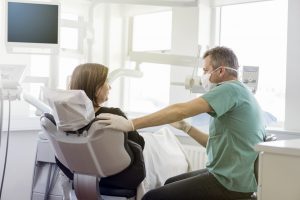 If you are suffering from tooth loss, it is time to choose the best solution to replace missing teeth with dental implants in Fort Worth. Dental implants offer a permanent option to regain a healthy, complete smile. They consist of three main components: an implant post, an abutment, and a dental restoration to replace the root and crown of a tooth. By doing so, you gain the only dental prosthetic that most closely mimics the appearance and function of a natural tooth. With over a 95% success rate, you improve your oral health and functions for long-term success. To benefit from this exceptional treatment option, you will require a consultation to ensure you are a candidate.

Am I a Candidate for Dental Implants?
In most cases, if you have healthy gums and adequate bone density, you can get dental implants. Healthy gums are vital to ensure the long-term success of the procedure as the biggest risk for implant failure involves infection. In addition, you must have enough bone density to support the implant post as it is surgically inserted into the jaw bone. However, even those with decreased bone density may still benefit from dental implants with additional procedures, such as bone grafting.
You must also be committed to great oral hygiene to prevent infection. Your lifestyle habits will be discussed to ensure you do not have any habits that hinder the success of the procedure, such as tobacco use and heavy alcohol consumption.
In some cases, certain medical conditions may prevent you from getting dental implants, such as those that limit the body's immune response. Certain chronic disease and systemic problems, like uncontrolled diabetes, connective tissue diseases, and immune deficiencies, may prevent you from being a candidate for the procedure. In addition, certain medications, like steroids or those that suppress the immune system, may make you unsuitable for the procedure.
Pregnant women and those who have not finished growing cannot get dental implants.
Where Can I Get Dental Implants?
If you are ready to see if you are a candidate for dental implants, you need a consultation with your dentist in Fort Worth. Dr. David Tillman will ensure you are a candidate for the procedure and create a comprehensive treatment plan.
During the first phase of treatment, a biocompatible titanium post is surgically inserted into the jawbone. A few months after the jawbone has healed and fused to the implant post, the abutment is attached to the post using a second minor procedure. A couple of weeks after the abutment is placed, the restoration phase can begin. A custom-made dental crown is attached to the abutment.
Depending on how many teeth are being replaced, your procedure may vary slightly. No matter if you are missing one tooth or all your teeth, dental implants can restore your smile and quality of life.
If you are ready to invest in your smile, contact Dr. Tillman today to schedule a consultation to see if you are a candidate for dental implants.