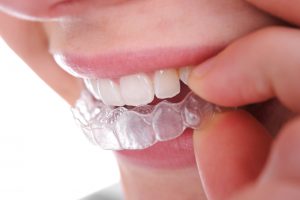 From backyard barbecues to pool parties to weddings to pop-up food trucks with some of the best treats in DFW, Summer in the metroplex always gives you plenty of reasons to smile. But when you do, you immediately become self-conscious of your crooked teeth. But enough is enough – you're finally ready to address your smile imperfections, but since you're a busy entrepreneur, metal braces just aren't for you. What other solutions do you have? Dr. David Tillman, your premier dentist in Fort Worth, offers Invsialign to straighten your teeth without calling more attention to the flaws to your pearly whites. Find out how Invisalign stacks up against traditional metal orthodontics in this post.
#1 – Time
Dr. Tillman explains that there is a significant difference in your time commitment between braces and Invisalign in Fort Worth. This will impact you in two ways:
Braces – Braces generally take at least two years to completely straighten your teeth.
Invisalign – Patients usually finish their course of treatment in just 6-18 months!
Braces – You'll need to see your orthodontist at least every 2 weeks to have your braces adjusted, meaning you'll invest lots of time in dental appointments.
Invisalign – Since you'll receive your entire course of treatment in just one shipment, all you'll need to do is switch to a new pair of aligners every two weeks to be amazed by the results, and you'll have fewer follow up appointments with us.
#2 – Cleaning Convenience
When it comes to everyday oral hygiene, braces have a more significant impact to brushing and flossing:
Braces – You'll need to spend time threading floss through metal brackets and wires, or even invest in a water-irrigation unit that can be costly, and doesn't do the job that flossing does.
Invisalign – Since you can take Invisalign out, you'll remove these when you go through your oral hygiene routine – you'll brush and floss just like normal – with ease and convenience.
#3 – Food Options
Metal orthodontics also affect the food choices you'll be able to make, for at least two years, so consider the differences here, as well:
Braces – You'll have to avoid any foods that could potentially remove brackets when you chew, so apples, corn on the cob, tortilla chips, caramels, gum, and popcorn are all off limits when you have braces.
Invisalign – Since you'll take your invisible aligners out when you eat, you can enjoy all your favorite foods and even a few treats! Although you won't be able to chew gum while you're wearing your Invisalign, you can certainly chew on this when you take them out.
#4 – Appearance Of Treatment
The most noticeable difference between Invisalign and braces is how treatment looks:
Braces – No one will be able to miss the fact that you're straightening your teeth, which can be problematic for adults with busy career (and dating) lives, and for teens who may face unkind comments from kids in school.
Invisalign – Since Invisalign is made of thin, yet durable and effective acrylic, no one will be able to tell that you're straightening your teeth with Invisalign. There's a reason why celebs like Khloe Kardashian, Katherine Heigl, and Anna Kendrick have used this method to improve the alignment of their teeth.
Now that you know why Invisalign is the clear winner over braces, schedule your appointment with Dr. David Tillman to achieve the perfectly straight teeth you deserve!