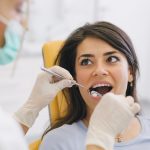 If you're new to the Fort Worth Metroplex or looking for a new dental office to call home, you might feel overwhelmed by the number of choices available to you. Before you give up and pick the first dentist you drive past, take a few moments to ask some questions that will help you feel confident that you've chosen the right office for your smile and your family's oral health. Consistently visiting a good dentist and comfortable dentistry practices reduces patients' risk for oral health concerns and makes visiting the dentist a comfortable experience free from stress and pain.

What do the Patients Say?
One of the simplest ways to find a great dental office is to ask friends, family members, and coworkers for recommendations. If those you trust have a dentist they can truly recommend for your family, this is a great starting point. Once you have some recommendations, look into what other patients think of them. Most practices will have patient reviews online. Check third party review sites, and you'll find unsolicited feedback from patients who will honestly describe their experience.
What are the Qualifications?
Every dentist should have a doctoral degree from an accredited university. Their team members should also have training and education commensurate with the treatments they offer. Many sites publish these qualifications online, but you can also call a practice to ask questions about their dentist and team qualifications. The best dentists and dental offices also complete continuing education hours each year to ensure they are offering the best treatments and staying up to date on the latest services and technologies.
What's the Atmosphere Like?
This is more difficult to determine from online reviews or even photos of the practice. It's the feeling you get when you walk through the door. Do you feel welcome? Does the team know who you are? Do the dentists take the time to get to know you? You may want to schedule a consultation appointment. This is the easiest way to ensure you're picking a dental office where you'll feel comfortable.
Does the Office fit Your Family's Routine?
Ask about the location and office hours. Some dental offices are worth driving miles out of your way for, but patients are more likely to maintain a regular routine, if the office is convenient. You may also want to find out if the practice offers block scheduling for families. Being able to bring the whole family to the office for treatment on the same day ensures maximum convenience.
What Services Do They Offer?
Dental offices that only offer the most basic services mean you'll find yourself dealing with specialists on a regular basis. This is not necessarily a bad thing. Specialists have advanced training and education that makes them the ideal practitioners for a wide variety of dental services. However, a skilled and experienced general dentist can offer many of these treatments all under one roof.
Meet Dr. Tillman
One of the most trusted Fort Worth dentists, David Tillman, DDS, has decades of experience offering a wide range of dental care for his patients. In addition to his doctoral studies in dentistry, Dr. Tillman has completed more than 2000 hours of continuing education. That includes completion of both of the most prestigious cosmetic dentistry programs in the US, the Pankey Institute and the Dawson Academy. He also trained for two years with the American Society for Orthodontics and completed a three year curriculum in dental implant placement and restoration at the Misch International Implant Institute. Our team truly cares about helping patients feel relaxed and welcome in our office, and you'll know it the moment you arrive.  Call our Fort Worth dental office to find out more or schedule an appointment today.