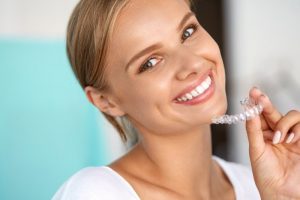 We all know that patience is a virtue — but who wants to wait? The faster we can get the things we're after, the better. If you're thinking about getting an orthodontic treatment to transform your crooked smile into one that is full of properly aligned pearly whites, we understand that you want results as soon as possible. Well, there's good news! Invisalign in Fort Worth is a relatively fast way to straighten teeth. Let's take a closer look at this amazing treatment.
Invisalign Is Faster Than Traditional Braces
On average, Invisalign takes 12 to 18 months to finish straightening your teeth. However, you may begin to see results in just a few weeks! And, thanks to the clear aligners, it'll be easy to notice how your pearly whites are slowly moving into their proper places. Traditional metal braces usually take longer; treatment may last 18 to 24 months, or even longer.
Of course, exactly how long you have to use Invisalign will depend on the severity of your teeth's misalignment. Your compliance also comes into play. It's recommended that patients wear their aligners for 20 to 22 hours every day, removing them just for eating, brushing and flossing. If you don't wear your aligners that amount, the overall timeline for your treatment could be extended.
Getting Started with Invisalign
If you're eager to get on the road to a straighter smile, the first step is to make an appointment with your cosmetic dentist in Fort Worth. They'll evaluate your teeth and determine whether Invisalign is a good fit for you. Then, it's time to start mapping our your treatment. You may even get to see a digital preview of what your teeth will look like after you're finished wearing Invisalign!
Your dentist will provide you with your first set of aligners. You'll wear each one for one to two weeks before you move to the next aligner. Throughout your treatment time, you'll have to have regular dental appointments so your dentist can make sure that everything is proceeding as it should.
You Have a Lot to Look Forward To!
12 to 18 months might seem like a long time, but they'll go by in a flash. In the meantime, you'll get to enjoy all of the benefits that Invisalign offers over traditional braces, including:
There are no ugly brackets and wires to take away from your lovely appearance.
Because there aren't any metal parts with Invisalign, you're less likely to experience gum and cheek irritation.
No dietary restrictions. Because you take Invisalign out while you eat, you'll be able to continue enjoying all your favorite goodies.
Invisalign in Fort Worth is a fast, reliable way to straighten your teeth. Why not talk to your dentist about it during your next appointment?
About the Dentist
Dr. David Tillman is your experienced, skilled dentist in Fort Worth. As a certified Invisalign provider, he would be happy to help you achieve a straight smile. If you'd like to learn more about this treatment, please contact our office at 817-918-3885.