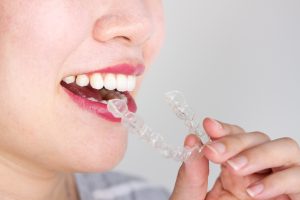 Have you been living with imperfections in your smile that you want to fix? If so, then you already know about the most known form of treatment – traditional braces. As an adult, you'd like to have a better experience when it comes to straightening your teeth – something more discreet. Invisalign in Fort Worth is the alternative you need, but how does the process work? What are the trays made of and how do they work to correct your bite? These and other questions are answered as you read on.
What is Invisalign?
Invisalign aligners are a system of clear trays that are made from plastic and gently apply pressure to certain points of your teeth to help them adjust to the correct position. The process starts with your dentist capturing 3-D images of your smile that allow him or her to pre-plan your entire treatment plan, which includes how many sets of aligners you'll need to wear and how long the process will take.
Following that, a bite impression will be taken that will be sent to a trusted lab to fabricate your clear aligners. When they're ready, you'll return to your dentist to be fitted with the first pair and get on the road to smile perfection.
How Long is the Invisalign Treatment Process?
Patients who are fitted with Invisalign custom-made trays will usually have a faster treatment process than that of traditional braces, which will typically take at least 24 months to complete. Because of the advanced way that your clear aligners are designed, where each tray applies force in a targeted manner, you can enjoy a beautiful new smile in as little as 12-18 months.
Other Advantages of Wearing Invisalign
Along with providing a faster treatment process, Invisalign aligners also offer the following perks:
They allow you to eat the foods you love, since they are removable.
There will be no drop-off in your dental hygiene because you'll be able to brush and floss your teeth as normal.
You also won't have to worry about the whole world knowing that you're wearing braces during this procedure because of the discreet design of your clear trays.
Dentists and researchers are constantly looking for ways to improve on the types of care that you can receive, and an example of that is the Invisalign method. To learn more about the process and to see if you're eligible for it, reach out to your cosmetic dentist in Fort Worth to schedule a visit today!
About the Author
Dr. David Tillman earned his dental degree from the University of Texas Dental Branch in Houston. He has since gone on to provide over two decades of expert care to the residents of the city of Fort Worth. To further expand on his knowledge, Dr. Tillman has completed over 2,500 hours of continued education, which includes two years of advanced training in comprehensive orthodontic instruction through the American Society of Orthodontics. He helps patients get the smile of their dreams at his private practice and can be reached for more information through his website.