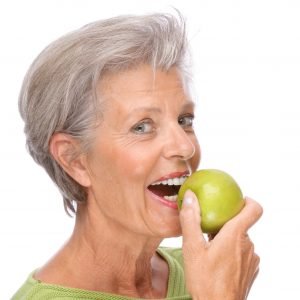 You no longer have to suffer from missing teeth because there are two highly effective procedures for replacing them – dentures and dental implants in Fort Worth. As you read on, you're going to learn about both forms of teeth replacement as well as their benefits. By getting the information you need, you'll then be ready to move forward with a local dentist to regain your life!
The Traditional Denture Explained
The most common way of replacing teeth is to have a set of dentures fabricated. The appliance is custom-designed by your dentist to fit perfectly in your mouth. It restores your functionality and also leaves you with an aesthetically-pleasing smile.
Here are the steps to the process:
Step 1 – The dentist will first assess your oral health to make sure there are no lingering problems that need to be addressed like gum disease, oral thrush or any others.
Step 2 – Next, bite impressions will be taken.
Step 3 – You'll then select the size, shape and shade of your new dentures, and all the data collected will be sent to a trusted lab.
Step 4 – The dental lab will send a mockup of the prosthetic that you'll try on at your dentist's office. If the appliance fits correctly and you're happy with the way it looks, the lab will be notified to move forward with the final fabrication.
Step 5 – When your new set of prosthetic teeth are ready, you'll return for a final fitting.
What are the Advantages of Dentures?
Here are some of the perks of having dentures placed:
Restores your smile and boosts your confidence
Requires a non-invasive procedure for placement
Slows down the aging effect by lessening facial wrinkling
Allows you to chew and properly digest the foods you love
Provides support for your jawbone to slow down the bone loss effects that result from prolonged teeth absence
What are Dental Implants?
Dental implants are surgically inserted titanium posts that are affixed to your jawbone. They later enjoin with the same through a natural bodily function called osseointegration. The fusion process allows for a sturdy foundation that is only rivalled by your natural teeth roots.
After the implant heals, a titanium abutment is placed that allows a final restoration to be added. The dental implant procedure offers similar benefits as dentures in Fort Worth.
Here are some of the benefits specific to the dental implant process:
It provides the most jawbone support of any form of tooth replacement.
It is versatile in that different types of restoration (implant-supported crown, bridge or denture) can be used in conjunction with it.
It prevents bone loss by directly attaching to the jawbone and triggering the message to build new bone cells in your mouth.
One caveat is the dental implant procedure requires you to have a sufficient amount of bone mass remaining so the post can seat properly. If you are lacking the necessary amount of bone, then dentures may be the better option.
The best way to determine which procedure is right for you is to visit your dentist in Fort Worth for a thorough examination and consultation. Based on your specific needs, the professional will recommend what's best so you can soon live a richer and more fulfilling life!
About the Author
Dr. David Tillman earned his dental degree from the University of Texas Dental Branch in Houston. He has since gone on to provide 25 years of expert care to the Fort Worth area. To further hone his skills and expand his knowledge, Dr. Tillman has received postgraduate training at the LD Pankey Institute and The Dawson Academy. He combines his advanced training with years of experience to replace patients' teeth at his private practice, and he can be reached for more information through his website.