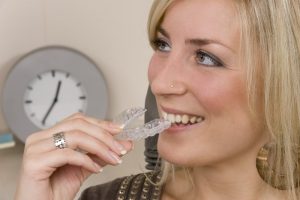 Are you looking to make better first impressions this year? If so, then having your bite imperfections addressed could provide the boost you need. But first, you need to determine whether Invisalign in Fort Worth or traditional orthodontics is the route you should take. Read on to learn about the differences between the two processes and the benefits of choosing Invisalign clear aligners!
How Traditional Braces Work
If you think of correcting an imbalanced bite, the thought of metal braces may come to mind. The traditional method for properly aligning teeth, the orthodontic procedure involves the placement of brackets, wires and bands that work in unison to move your teeth over a period of 18 to 36 months.
While traditional braces are highly effective, they can be limiting in several ways:
They can draw unwanted attention to your mouth, which can leave you feeling less confident.
There is the potential for a dental emergency if one of the components breaks or dislodges.
Wearing them requires a diet change, as foods like peanut butter, popcorn and similar items could cause them to become loose or break.
The normal method of cleaning your teeth must be altered to accommodate the different parts of the braces.
The Invisalign Alternative
The Invisalign method for correcting bite woes uses a series of clear, plastic aligners to gradually move the teeth to their correct position. The process starts with your dentist capturing 3D images of your current condition. They are then used to create a custom treatment plan that is sent to an in-network lab that will fabricate a complete set of aligners.
When they arrive from the lab, you'll be invited back to your dentist's office to retrieve the full treatment set. You'll typically wear each pair for two weeks and then discard them for the next progression in the series. This pattern is followed until you finally achieve the desired look and alignment originally mapped-out by your dentist.
The Benefits of Choosing Invisalign
In addition to providing a discreet treatment process with its clear aligners, the Invisalign method also allows you to maintain a normal diet sense the aligners are removable. This feature also allows for better oral hygiene because you'll be able to brush and floss normally.
Another perk is that the process is generally completed in less time than the traditional braces route. This is partly due to the advanced Invisalign technology that aids your dentist in "tailor-making" a plan to fit your specific needs.
So to learn more about how Invisalign can help you overcome your smile woes, contact your dentist in Fort Worth today!
About the Author
Dr. David Tillman earned his dental degree from the University of Texas Dental Branch in Houston. Throughout his career, he has maintained a focus on learning, which is why he has taken over 2,500 hours of continuing education. Dr. Tillman has received additional advanced training from the American Society of Orthodontics. Rated as a "Best Dentist" in Fort Worth Magazine for years, he helps patients achieve dazzling smiles at his private practice, and he can be reached for more information through his website.