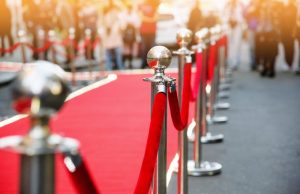 As an adult who would like straighter teeth, do you feel like you have to give up your professional image to undergo treatment? In the past, traditional metal braces have been the only orthodontic option to obtain your ideal smile and optimal oral health. With the modern advancements in dentistry, there's a new option on the market, Invisalign in Fort Worth. You'll be surprised to know that these aligners are so effective and discreet that celebrities have frequently used them to get the camera-ready grin they have today. You can be ready for the red carpet too! Read on to learn about the treatment and why you don't need to be famous to get it!
What is Invisalign?
Invisalign treatment utilizes a series of custom-crafted smooth, plastic aligners to gently place pressure on your teeth to move them into their ideal positions. During your initial appointment, your dentist in Fort Worth will take digital images of your mouth to craft your Invisalign trays from. Every few weeks, you'll visit them to pick up your new trays and for a quick checkup until your treatment is over.
The idea of the treatment is similar to braces, but each oral appliance is custom-fitted to your unique smile to fix a variety of issues. Because they're made from an FDA-approved plastic instead of metal, brackets won't be pressing and rubbing against your delicate oral tissues.
Which of Your Favorite Celebs Have Benefited From Invisalign?
Fortunately for you, Invisalign is readily available to all patients who would like to achieve their dream smiles. In fact, many famous celebrities you may know underwent treatment so they could dawn a smile that's ready for the spotlight. Oprah Winfrey (you know her, right?) even wore her clear aligners to straighten her teeth while she was filming her talk show. After Zac Efron got his first major role in High School Musical, he wanted a grin that radiated confidence to attract his next big role. That's why he closed the gap between his front teeth using Invisalign aligners.
How Can You Benefit From Invisalign?
There are countless benefits that patients can enjoy when they use Invisalign aligners to straighten crowded, misaligned, and gapped teeth. No matter what your age is, having straighter pearly whites can boost your confidence and make you less self-conscious when you meet new people, start up a conversation, and smile. Some advantages of Invisalign include:
Practically invisible appearance
Comfortable
Easy to maintain your oral health
Shorter treatment times
Safe and removable
Enjoy all your favorite snacks
Easy to clean
Don't be fooled! Just because celebrities have used them doesn't mean they're not affordable or easily accessible to you too. You can start your journey towards achieving a spotlight-worthy grin by visiting your dentist for an initial consultation today!
About the Author
Dr. David Tillman has completed over 2500 hours of advanced dental education. He has finished a year-long cosmetic training program at Louisiana State University, two years of orthodontic instruction through the American Society of Orthodontics, and over three years of additional training in implant dentistry and bone grafting. He offers his patients comprehensive care so they can get every service they need under one roof. For questions or to schedule a consultation for Invisalign, visit his website or call 817-918-3885.