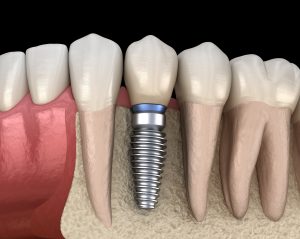 Although you probably never expected it to happen to you, you're among the 120 million Americans who have lost 1 or more teeth. While there are many dental prosthetics available, only 1 replaces the entire tooth structure. A dental implant replicates the root and the crown by surgically placing a titanium implant post into your jawbone. As a result, bone density and dental implant success go hand-in-hand. Here's what you need to know to ensure your new smile thrives.

Missing Teeth Cause Bone Loss
When you lose a tooth, the crown isn't the only thing missing. You also lose the root. Your jawbone will slowly deteriorate because it isn't being stimulated by the root. Over time, this will cause any remaining teeth to lose the support they need to stay in place. As they drift out of alignment, you develop an increased risk of tooth decay, gum disease, and additional tooth loss.
Unfortunately, if too much bone is lost, you won't be a candidate for dental implants because your jawbone won't be able to support the posts. Don't worry, you're not alone. Many patients need an additional procedure to enhance their jawbone before getting dental implants.
Treating Low Bone Density
During your initial consultation for dental implants, your dentist will take a CT scan to assess your jaw's density. If it's low, you'll need bone grafting. The surgical procedure takes bone from a donor and transfers it to the weakened areas. Although it adds another step to your treatment plan, a strong jawbone is essential to the long-term success of dental implants.
Preserve Your Jaw's Density
A dental implant is the only treatment to stop bone loss that's associated with missing teeth. A titanium implant post is placed into the jaw to act as a new root. This stimulates your jaw to encourage new bone growth. Your jaw will fuse to the post through a process called osseointegration. This creates a stable foundation for your restoration to give you a close replica of your natural tooth.
The dental implant will also keep your jawbone strong, providing your remaining teeth with the support they need to stay in place. This stops dental drift to prevent common issues associated with tooth loss. This lowers your overall dental expenses because you won't need an additional treatment down the road.
Overall, dental implants are an investment because they keep your smile healthy while also offering the potential to last for a lifetime. If you're ready to replace your missing teeth, take your first step toward a complete smile by seeing if you're a candidate for dental implants.
About Dr. David Tillman
Dr. David Tillman strives to provide advanced dental services to improve his patients' quality of life. He has over 2500 hours of post-graduate dental education to offer specialty services, like dental implants. If you're ready to invest in a complete smile, contact our office today to schedule your consultation.