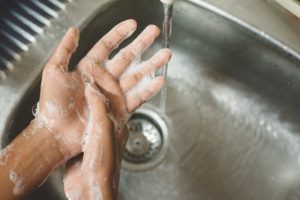 Ever since the COVID-19 pandemic began, you've been pretty diligent about following the social distancing guidelines. But one day you wake up with a stabbing pain in your tooth. Should you call your dentist for treatment? Or is it even safe, with the coronavirus going around? Fortunately, dentists follow all kinds of safety procedures to ensure that their office is safe and clean enough for all patients. Keep reading below to learn more about safety at the dentist.
Normal Precautions
Generally, medical practices such as your dentists' follow strict health and safety protocols mandated by the Centers for Disease Control and Prevention (CDC). Some of these standard precautions include:
Use of PPE. PPE stands for Personal Protective Equipment. Examples of PPE include gloves and face masks, which every member of your dental team will be sure to wear during every procedure.
Hand washing. Your dentist and their staff are instructed by the CDC to wash their hands before and after treating each patient. Along with wearing gloves during your appointment, this will prevent the spread of germs from patient to patient.
Office sterilization. Dental offices take great care to disinfect the entire office environment. Before and after each appointment, each exposed surface in the operatories is thoroughly cleaned.
Tool sterilization. Every instrument that your dentist or hygienist uses will be completely disinfected before and after treating each patient. You can rest easy knowing that every tool your dentist uses will be sterile and safe.
Even when there isn't a pandemic going on, dentists take great care to make sure that their office is one of the cleanest places you could be. Now, however, they enact extra precautions to prevent the spread of all germs.
COVID-19 Precautions
The coronavirus pandemic has many people rightfully concerned about their safety. While the majority of dental offices aren't performing regular procedures like cleanings, they are still treating dental emergencies as needed. However, many of them are also implementing extra safety precautions in the wake of COVID-19, such as:
Checking the health of all team members daily
Having patients wait in their cars until it's time for their appointment
Offering online consultations
Wearing extra PPE like shoe coverings, face shields, and surgical gowns
Even during a global pandemic, your dentist's office is still one of the safest and cleanest places you could be. The standard hygiene practices coupled with the new COVID-19 precautions ensure that you're in good hands. And if you have a dental emergency, don't be afraid to pick up the phone and call your dentist to get the care you need.
About the Author
Dr. David Tillman has been in private practice in Fort Worth since 1993. Since then, he has completed over 2,500 hours of post-graduate education. He has earned Fellowships in the International Congress of Oral Implantologists, the Pierre Fauchard Academy, and the International College of Dentists. Due to COVID-19, his practice is currently only treating dental emergencies. If you have one, such as a serious toothache or a broken tooth, don't hesitate to contact Dr. Tillman's practice at (817) 918-3885.