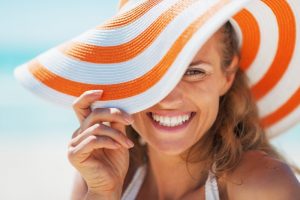 As the country slowly begins to reopen during the COVID-19 pandemic, many of us need a haircut or to lose a few extra pounds. However, your teeth may need a makeover just as badly if they've become stained, chipped, or crooked after weeks of staying at home. With summer right around the corner, now is a great time to make sure your smile is ready to ease back into a social lifestyle. Here are a few ways your Fort Worth cosmetic dentist can help beautify your smile as you come out of quarantine.
Teeth Whitening
Have you been mindlessly munching or stress-eating during the COVID-19 pandemic? Did you put off brushing or flossing your teeth one too many times? If so, you may find that your teeth have taken on a dirty hue over the past several months.
Thankfully, a professional teeth whitening treatment from your Fort Worth dentist can restore your bright smile! This quick and affordable service utilizes a powerful whitening agent that can seep deep into your enamel and clear away discoloration. Whether you choose an in-office treatment or an at-home kit from your dentist, you'll receive safe, comfortable, and dramatic results in no time!
Porcelain Veneers
Once used primarily for celebrities, porcelain veneers can now help anyone attain a flawless smile. These ultra-thin shells of beautiful dental porcelain can be used to conceal a variety of cosmetic issues at once, like:
Stubborn enamel stains that can't be lifted with teeth whitening.
Chipped, cracked, or otherwise minimally but noticeably damaged teeth.
Teeth that are slightly gapped, misaligned, or misshapen.
Whether you want to redesign the appearance of one tooth or many, these durable, stain-resistance, and lifelike veneers can help you achieve the smile you've always wanted.
Invisalign
After spending so much extra time at home during quarantine, you may have noticed that your teeth have shifted out of place. If you want a straighter smile without a mouth full of metal wires and brackets interrupting your busy lifestyle, Invisalign clear braces may be perfect for you.
This modern orthodontic treatment uses a series of clear, plastic aligners to gently shift your teeth into place. They're removable and nearly invisible, which means you can continue to confidently enjoy all of your favorite foods and activities.
While it may still take quite some time until it's safe enough to return to our "normal" social lives, you can start preparing now! A quick trip to your Fort Worth cosmetic dentist can help you feel ready to greet life after quarantine with a sunny, beautiful smile.
About the Author
Dr. David Tillman has been providing excellent, personalized dental care in Fort Worth, TX and the surrounding communities since 1993. He has completed over 2,500 hours of continuing education in an array of topics, including a year-long training program on cosmetic dental treatments at Louisiana State University. Additionally, he demonstrates his love for his community by participating in organizations like Save a Smile, holding annual blood drives, and serving on several volunteer boards of directors. In these unusual times, he continues to put the best interests of Fort Worth first with increased infection control protocols. To learn more, feel free to contact him via his website or at (817) 918-3885.