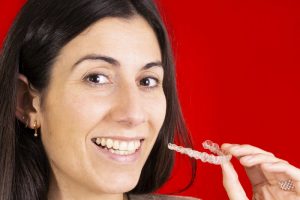 Invisalign is a great option when it comes to straightening your smile. You are on the path towards your dream smile and don't have to deal with metal brackets and wires in your mouth. Best of all, you get to eat whatever you want with no restrictions. However, it can be difficult to keep track of your Invisalign in Fort Worth during the holidays because your schedule is often thrown off. Here are some tips that can help.
Wear Your Aligners All Day!
Well, you should at least be wearing your aligners for most of the day. According to the American Dental Association, you should be wearing your Invisalign for 20 to 22 hours a day so that you don't get behind on your treatment. If you find yourself forgetting to put them back in after eating, try setting a timer on your phone. This way, if you forget, you will get a gentle reminder to pop them back in.
Bring Your Case
No matter where you go, even if you don't plan on eating, you should take your Invisalign case with you. It isn't uncommon for patients to leave their aligners on their plate or a napkin. The problem is that they can easily be thrown away by accident. By keeping them in their case, you will know that they are save while you enjoy your snack or meal.
Brush and Floss
Every time you take your aligners out, you should brush and floss your teeth before putting them back in. When you put in your trays, food and drink particles can get stuck between the plastic and your teeth, damage your enamel, and lead to decay. If you will be attending holiday parties this year, don't forget to bring your toothbrush, toothpaste, and floss.
Remove Your Aligners Before Your Eat or Drink
It might not seem like a big deal to have a sip of your coffee or hot cocoa while you have your aligners in, but this can be harmful. Not only can it become trapped against your teeth, but hot beverages can damage the structure and even bend them out of shape. This could cause your teeth to move in the wrong directions and even make you experience pain when you put in your new set of aligners. It's better to be safe than sorry.
If you have Invisalign, don't allow the holidays to derail your treatment. By using the tips above, you can continue to work towards a straighter smile through the most wonderful time of the year.
About the Author
Dr. David Tillman is an experienced dentist who has been in private practice for well over two decades. He has completed more than 2500 hours of post graduate dental education and has received a Fellowship and Mastership through the Academy of General Dentistry. For more information on Invisalign or to schedule an appointment, visit his website or call (817) 332-9303.