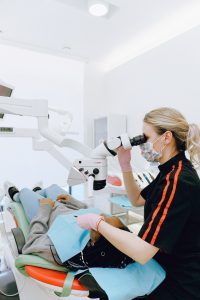 If you're missing teeth, you've likely heard about the benefits of dental implants as an alternative to traditional prosthetics. Although you might believe they are relatively new, they date back to ancient Egypt; however, it wasn't until the 1980s they began to hold a commonplace in dentistry. They've come a long way over the years to be the most successful treatment for tooth loss. In fact, they have over a 95% success rate to last for decades with the right aftercare. Their longevity is attributed to advancements in dental implant technology. Here are the top 3 innovations that have paved their way to success.
1. Computer-Aided Technology
The overall viability of a dental implant relies on its strategic placement in the jawbone. It must be placed in an area that offers maximum bone stability to last for many years. In the past, a dentist would use X-rays and their experience to determine the placement of a post. Unfortunately, this method left a lot of room for error that could potentially lead to implant failure.
Computer technology takes the guesswork out of the process. A CT scan and computer-aided placement pinpoint the exact location for the post to promote its integration with the jawbone for unmatched support. Besides the post, computer-designed restorations are made as duplicates of the natural teeth to enhance the aesthetics and function of dental implants. They are made using a CAD/CAM milling process to provide precise results.
2. Antibacterial Coating
Although not widely used yet, another breakthrough is a unique antibacterial coating for dental implants. Consuming a diet with high acid content can erode your natural teeth and dental implants. Since they mimic your real teeth, they are susceptible to certain compounds that can lead to damage. The antibacterial coating helps to neutralize harmful bacteria to preserve your dental implants, so they can last for a lifetime with a commitment to your oral hygiene.
3. Dental Implant Selection
Did you know there are several types of dental implants in Fort Worth? They are available in a variety of sizes and can be made of numerous materials, like titanium or ceramic. This allows for more personalized treatment plans to better accommodate the width of a patient's jawbone, as well as the space of the missing tooth to decrease the risk of complications. Patients will have more flexibility to restore their smile using a dental implant that matches their exact specifications.
Enjoy Modern Dentistry
If you're ready to replace your missing teeth with the next best thing to your own, your dentist embraces the latest innovations in dentistry to promote the success of your procedure. Choose modern dental care to ensure your investment lasts.
About Dr. David Tillman
Dr. Tillman earned his dental degree from the University of Texas Branch in Houston. Besides a 2-year dental missionary, he has completed over 2500 hours of post-graduate training in many specialties, like dental implants. Contact our office today to schedule your consultation for a complete smile.