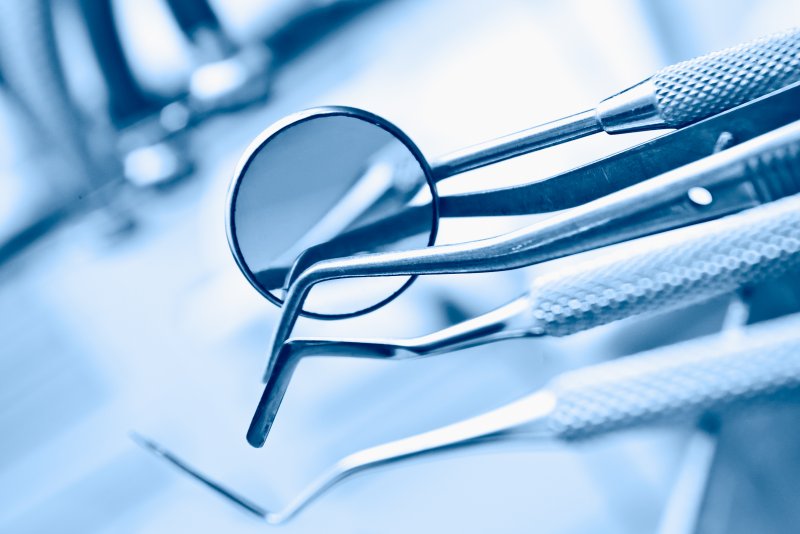 When you sit down in the treatment chair for your six-month dental checkup and cleaning, it can be a bit nerve-wracking to see a display of sharp, intimidating dental instruments laid out next to you. In fact, this is the source of the dental anxiety many patients struggle with! If this sounds all too familiar, then learning more about some of the most common tools your dentist uses may help ease your fears. With this in mind, here are four dental instruments that play an essential role in providing you with a beautiful, cavity-free smile!
#1. Dental Mirror
Perhaps the most unintimidating of the bunch is the dental mirror. This tool has three important uses: allowing your dentist to look at the hard-to-reach areas of your mouth, reflecting light onto specific surfaces, and retracting the soft tissue. As you can imagine, this small but important tool plays a crucial role in the visual portion of your examination, allowing your dentist to catch dental issues like cavities and gum disease.
#2. Dental Probe
There are three different types of dental probes: straight, briault, and periodontal. Each has a thin handle and sharp tip that is either slightly curved or straight. When your dentist is examining cavities, they will use the straight probe. From there, they will use the briault probe to detect tartar hidden in gum pockets. Lastly, the periodontal probe is used to establish the health of the periodontium.
#3. Scaler
Dental scalers have a hooked blade at the end, which makes this tool look intimidating. However, it is a safe device that is used to remove plaque and tartar buildup, effectively preventing issues like tooth decay and gum disease from developing. Typically, this instrument is used towards the end of your professional cleaning to manually scrape the surfaces of each tooth.
#4. Polisher
The final step of your six-month visit is to apply a polishing paste to your teeth. This mildly abrasive stain-buster will remove additional plaque and stubborn surface stains. One major perk of this tool is that it is both extremely effective and entirely painless!
Seeing your dental team's instruments laid out in a row next to you can initially send a bead of sweat down your spine. While each tool is unique, they all play a crucial role in warding off decay, preventing dental concerns like gum disease, and keeping your teeth nice and white. So, when you start to feel fearful, just remember they are being used to keep your smile in pristine condition!
About the Author
Dr. David Tillman earned his dental doctorate from the University of Texas Dental Branch in Houston, and he has spent the last 20+ years helping patients in Forth Worth enjoy healthy, happy smiles. To stay at the forefront of his field, he prioritizes continuing education, which is why he has completed over 2,500 hours thus far! If you are interested in learning more about Dr. Tillman or are ready to schedule your appointment, visit his website or give him a call at 817-918-3885.