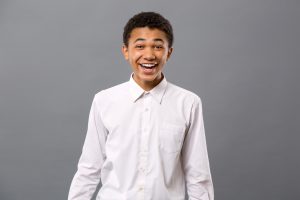 Everyone deserves to have a beautiful smile, even children and teens. Although you might believe they have the most perfect smile in the world, many children and adolescents feel insecure about certain aesthetic flaws, like alignment problems, discoloration, or chipped teeth. Your child doesn't need to feel the weight of an unattractive smile any longer. They might be the ideal candidate for 3 common cosmetic dentistry treatments.
1. Invisalign
Invisalign is an alternative to traditional braces because there isn't any need for brackets and wires. Instead, transparent aligners are worn over the teeth to correct a variety of bite and alignment issues. Although you might have heard it's only for adults, Invisalign is great for patients of all ages, including children as young as 10. They can be used for Phase 1 orthodontics to fix several concerns, like crowding, spacing, and narrow dental arches. Invisalign can also be used for teens needing Phase 2 orthodontics to put the final touches on their beautiful smile. They'll have a nearly invisible treatment to feel confident throughout their day because they won't worry about brackets and wires drawing attention to their mouth.
2. Teeth Whitening
Children can develop stained and discolored teeth, such as from genetics, poor oral hygiene habits, or the foods they eat. No matter the cause, brown and yellow teeth can be embarrassing. While there are many OTC whitening products, they may not be suitable for your child, and they may not achieve the results they want. It's best to skip the risks of OTC products. Instead, they might be a candidate for professional teeth whitening. Their cosmetic dentist will use safe solutions to brighten their smile, like a take-home kit. The treatments are generally recommended for teens instead of younger children.
3. Veneers and Lumineers
Veneers and Lumineers aren't often used for teens who don't have all their permanent teeth, but every situation is unique. A veneer is a thin shell bonded to the front surface of a tooth to improve its overall color, size, and shape. They can fix discoloration, chips, and gaps using a minimally invasive treatment. Your cosmetic dentist will ensure your teen is a candidate for the procedure and they don't have significant alignment issues. Unfortunately, your child's teeth will need to be altered to benefit from veneers. If you're concerned about them changing their mind about the treatment later, Lumineers offer the same results without altering their teeth, so they are reversible.
Give your child the gift of confidence. Cosmetic dentistry can transform their teeth and self-esteem to transition into adulthood looking and feeling their best.
About Dr. David Tillman
Dr. Tillman earned his dental degree from the University of Texas Dental Branch, and he has completed advanced training through many prestigious programs, like the LD Pankey Institute and the Dawson Academy. He offers the modern solutions you and your loved one's need for healthy, attractive smiles. Contact our office today to see if cosmetic dentistry is right for your child.