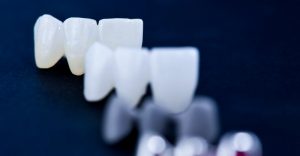 Finally, the time has come to improve your smile flaws, and you've chosen porcelain veneers to do the job. The procedure takes a few steps to complete, one of them being the placement of temporary veneers. Why is this necessary, and what should you expect from this part of your smile transformation? Continue reading to get the full scoop from a local cosmetic dentist!
What's the Purpose of Temporary Veneers?
Before you have a set of porcelain veneers placed, your teeth must be prepped, which involves the removal of a thin layer of enamel. This ensures that the veneers will fit seamlessly into your smile line. Because the enamel plays an integral role in protecting your teeth from the dynamic environment inside your mouth, when a portion of it is removed, your teeth are more susceptible to damage and decay.
Thus, your dentist will place temporary veneers to protect against an injury or decay that could derail your smile plans. As an added bonus, the temporary veneers will allow you to get an idea of how you'll look with your permanent smile and to have any necessary adjustments made before your treatment is finalized.
Thankfully, you typically won't have to wear the temporary fixtures for longer than a couple of weeks.
What to Expect When Wearing Temporary Veneers
You may experience the following:
Changes in your dental hygiene regimen – Usually, there aren't any gaps between temporary veneers, so you likely won't be able to floss until the permanent veneers are in place.
Difficulties when chewing – Because temporary veneers tend to be a little thicker than permanent veneers, there may be difficulty chewing, and in some cases, slight discomfort.
Diet limitations – You'll need to avoid eating hard, sticky, chewy or crunchy foods, as they could cause the temporary veneers to dislodge.
Sensitivity to extreme temperatures – Because your teeth will be partially exposed from having a portion of the enamel removed, you may experience some discomfort when eating or drinking hot or cold foods or beverages. Thus, it's best to abstain until your permanent veneers are in place.
Is It Worth It?
The minor changes that you'll have to make will only require a few weeks of your time. Then, your dentist will invite you back to the office to have your permanent veneers bonded into position. When you look into the mirror and see your brand-new smile staring back, you'll know that it was all worth it!
About the Author
Dr. David Tillman earned his dental degree from the University of Texas Dental Branch in Houston. Throughout a career that has spanned well over 20 years, he has remained an avid learner, taking several hours of continuing education, which includes a year of training in cosmetic dentistry at Louisiana State University. As a testament to his commitment to excellence, Dr. Tillman has been rated "Best Dentist" in Fort Worth Magazine and a "Super Dentist" in Texas Monthly Magazine for years. He creates gorgeous smiles by placing porcelain veneers at his private practice, and he can be reached for more information or to schedule a visit through his website.