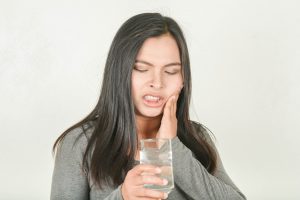 If you're not in love with the way your teeth look, you don't need to live with the smile you see in the mirror. Veneers can give you the picture-perfect smile you desire. A custom-made shell is bonded over the front surface of a tooth to instantly hide several imperfections. You can get the drastic results you want with a single procedure, but there's just one problem. You're worried about veneers causing tooth sensitivity. It's true your dentist will need to remove some enamel, but the process won't damage your teeth. In fact, if have sensitive teeth, veneers can even stop your discomfort, so you can enjoy your morning coffee.
Why is Enamel Removed for Veneers?
Veneers will enhance the overall color, size, and shape of your teeth, but a small amount of enamel will need to be removed before they can be bonded in place. You likely heard enamel can't regenerate, so you might be hesitant to permanently alter your teeth, but there isn't any need to worry.
Modern veneers are thinner than ever. As a result, only about 0.5mm is shaved off to ensure your veneers sit flush and bond well to your teeth. Although some enamel is removed, it doesn't damage the health or integrity of your teeth, but they will always need to be covered by restorations to avoid potential problems, like tooth sensitivity. Your dentist will determine how much needs to be taken off during your consultation. They will consider several factors, such as the size and alignment of your teeth.
Will Veneers Cause Sensitive Teeth?
Despite your enamel being thinner, you don't need to worry about any lingering tooth sensitivity. Initially, you might have some discomfort after getting your veneers; however, it will not last for more than a few weeks at most. Although temporary sensitivity is common, not everyone experiences it. Instead, you might even notice an improvement in your discomfort if you're prone to tooth sensitivity.
Bonding a veneer to the front side of your tooth gives it an added layer of protection against outside elements, like the foods and drinks you consume. Hot or cold foods and drinks won't be able to reach your enamel to solve sensitive teeth long-term. Your dentist can determine if veneers are the answer to your sensitivity challenges to enjoy a cup of warm tea or a bowl of ice cream without any sudden pain.
Get a Beautiful, Smile Today
Don't be concerned about tooth sensitivity when choosing veneers. You'll achieve the smile of your dreams using a minimally invasive and natural-looking solution. Your teeth will look and feel better than ever before.
About Dr. David Tillman
Dr. Tillman earned his dental degree from the University of Texas Dental Branch in Houston before continuing his training at the LD Pankey Institute and the Dawson Academy. He also completed a year-long cosmetic program at Louisiana State University. He has the experience and qualifications you can trust to invest in a beautiful smile. Contact our office today to schedule your consultation with an award-winning dentist.