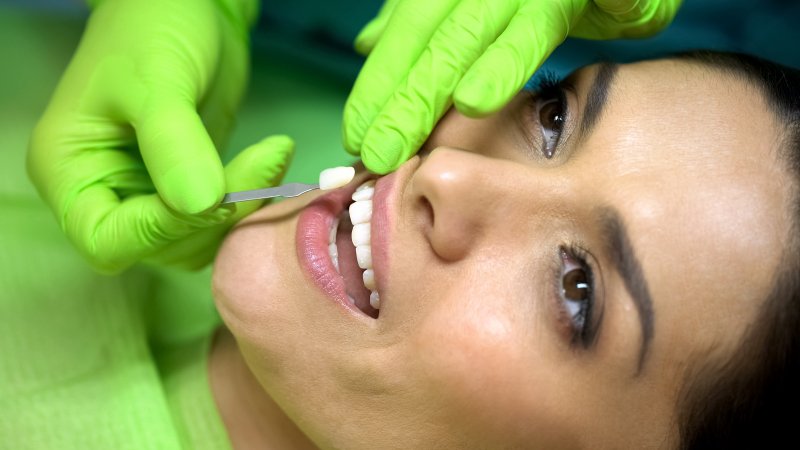 Like many people, you may be looking to whiten and straighten your smile with porcelain veneers. Though they are a common way to perfect your smile, today's veneers have come a long way from what they used to be. Read on to learn about the history of porcelain veneers and how they have evolved to become what we're familiar with today.
How It All Began
The first porcelain veneers were invented by Charles Pincus, a dentist from California, to temporarily change the appearance of an actor's teeth for a film shoot. They were attached to the actor's teeth using removable adhesive. Eventually, people in Hollywood began using longer lasting acrylic veneers. They were easily damaged, so they needed to be replaced pretty frequently.
Later Advancements
Dr. Michael Buonocore invented etching in 1959, a process that's still regularly used for numerous cosmetic procedures and dental restorations. Etching works by applying acid to the surface of the tooth to make it more porous so the restoration is easier to cement in place. In 1982, the Simonsen and Calamia research group came up with a way to use etching for dental treatments like porcelain veneers. After applying the acid to the surfaces of the tooth, they put a putty-like bonding resin on it so it would seep into the newly created grooves. This made the bond stronger and longer lasting, making it the first semi-permanent dental bonding treatment. With this method, most patients were able to retain their veneers for several years before they needed to be replaced, reattached, or repaired.
Today's Veneers
Today, these same etching and bonding techniques are still used. They are paired with high-quality, stain-resistant porcelain veneers to make them more closely resemble healthy, natural teeth. A modern veneer procedure starts with removing a thin layer of tooth enamel to ensure the veneer fits flush against the teeth. Then, molds and impressions of the teeth are made and sent to a dental laboratory where the veneers are made. Once the dentist's office received the new veneers, the patient will come back into the office to have them placed.
With proper care, today's dental patients can rely on their porcelain veneers for up to 30 years. So, practice proper oral health care and visit your dentist for regular checkups to keep your smile Hollywood ready!
About the Author
Dr. David Tillman and his Fort Worth team understand it's not always easy to find time to visit the dentist. That's why they're committed to providing quality, efficient dental care to you and your family. Dr. Tillman uses his abundance of hands-on experience, continuing education, and high-quality materials to offer cosmetic options like veneers. The team is provides personalized dental health care to beautify the teeth of their patients and make them feel more confident in their smiles. To learn more about porcelain veneers and to find out if they're right for you, call (817) 678-5148 or visit their website.