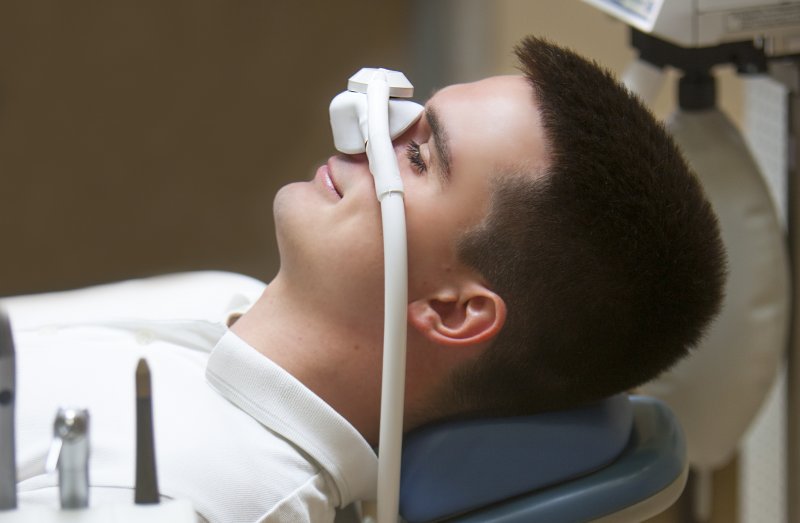 Do you suffer from dental anxiety? You aren't alone. Dental anxiety is estimated to affect approximately 36% of the population, with a further 12% suffering from extreme dental fear. It even prevents some people from seeking treatments that are essential for their oral health. The good news is that sedation dentistry is available to help fearful patients feel relaxed at the dental office. Continue reading to learn more about the types of sedation options available and some factors to consider when it comes to the cost.
What Types of Sedation Dentistry Are Available?
Sedation dentistry can cover a variety of different techniques to make a patient feel more comfortable during their treatments. Here are the different available options:
Nitrous Oxide Sedation: For patients who have mild to moderate dental anxiety, nitrous oxide sedation is a great option. You likely know it as "laughing gas" because of the euphoric feeling it gives patients. With this type of sedation, a small mask is placed over your nose and all you need to do is breathe normally. Nitrous oxide is colorless and odorless. Shortly, you will feel more relaxed but still reman awake. The effects wear off very quicky; you can even drive yourself home after your appointment.
Oral Conscious Sedation: If you suffer from moderate to severe dental anxiety, your dentist may recommend this method instead. Before you come in for your treatment, you will take an anti-anxiety pill that's been prescribed by your dentist. By the time you get to the dental office, you will feel perfectly relaxed, but still remain conscious so you can answer questions. Many patients don't remember much of their appointment afterwards. Because this sedation method is stronger, you will need a trusted friend or family member to drive you to and from your treatment.
What Does Sedation Dentistry Cost?
The exact cost of sedation dentistry will vary depending on several factors. In most cases, nitrous oxide sedation is the most affordable while oral conscious sedation can be more costly. Dental insurance companies typically consider sedation dentistry to be elective, so it is often not covered by dental insurance plans. It is a good idea to check with your insurance provider to see what kind of benefits are available for you. There may be additional financial options that can make getting sedation dentistry more affordable too, so talk to your dental team to explore your options.
If you have any concerns regarding sedation dentistry or the cost, give your dental team a call. Anxiety doesn't need to keep you from getting the essential dental treatments you need.
About the Author
Dr. David Tillman is an experienced dentist who has been in private practice for over 25 years. He earned his dental doctorate from the University of Texas Dental Branch in Houston and has completed over 2500 hours of post graduate dental education. Currently, he is a proud Fellow of the International Congress of Oral Implantologists and the International College of Dentists. His practice offers nitrous oxide sedation and oral conscious sedation for patients with dental anxiety. To learn more about the cost of treatment or to schedule an appointment at his office in Fort Worth, visit his website or call (817) 918-3885.