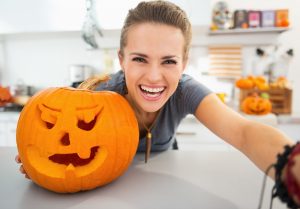 People of all ages get excited about Halloween. Besides scary movies, creative costumes, and spooky decorations, who doesn't love a night of overindulging in their favorite Halloween candy? With so many tasty treats, it can be impossible to ignore your sweet tooth, but a night of trick or treating doesn't have to come back to haunt your smile. Here are 4 tips to keep tooth decay at bay. 
1. Choose Candy Wisely
Not all candy is equal in the eyes of your family dentist. Some kinds are worse for your smile than others. It's best to choose the least damaging based on how they rank on their risk to your dental health. Here's what you need to know to choose the safest sweet treat for your smile:
Hard Candy: Hard candy can harm your teeth in many ways. Chewing it can lead to a fractured tooth that can land you in the dental chair. You must also hold the candy in your mouth for a prolonged time for it to dissolve. This bathes and coats your teeth in cavity-causing sugars.
Sour Candy: Sour candy is very acidic and contains a lot of sugar for bacteria to feed on.
Sticky or Gummy Candy: Sticky candy clings to your teeth, which can be difficult to remove from the molars and other small spaces in your mouth. Bacteria will have more time to attack the enamel.
Chocolate: Chocolate is a favorite among dentists because it's less harmful to your smile. It rinses off of your teeth easier than other kinds of candy. As a rule of thumb, the darker the chocolate, the better it is for your smile.
2. Timing and Quantity are Everything
Although it can be difficult, it's best to limit how much candy you eat. Instead of having a few pieces throughout the day, eat them with a meal. Chewing increases saliva production, which helps cleanse your mouth in between brushing and flossing.
3. Step Up Your Oral Hygiene Routine
The American Dental Association recommends brushing your teeth in the morning and night, but if you're eating more sweets than usual, it's best to brush after every meal. Clean all surfaces of your teeth for at least 2 minutes. Don't forget to floss before heading to bed.
4. Drink More Water
Water keeps you hydrated, but it's also vital for a healthy smile. It keeps your mouth moist to combat harmful oral bacteria. It also rinses your mouth every time you take a sip. If you can't ignore your sweet tooth, be sure to drink a glass of water, too.
After Halloween comes to an end, commit to following these tips throughout the holiday season to maintain a cavity-free smile.
About Dr. David Tillman
Dr. Tillman achieved his dental degree from the University of Texas Dental Branch and has completed extensive continuing education in advanced services, like orthodontics and dental implants. If it's time for your next cleaning and checkup, choose an award-winning dentist. Contact our office today to request an appointment.