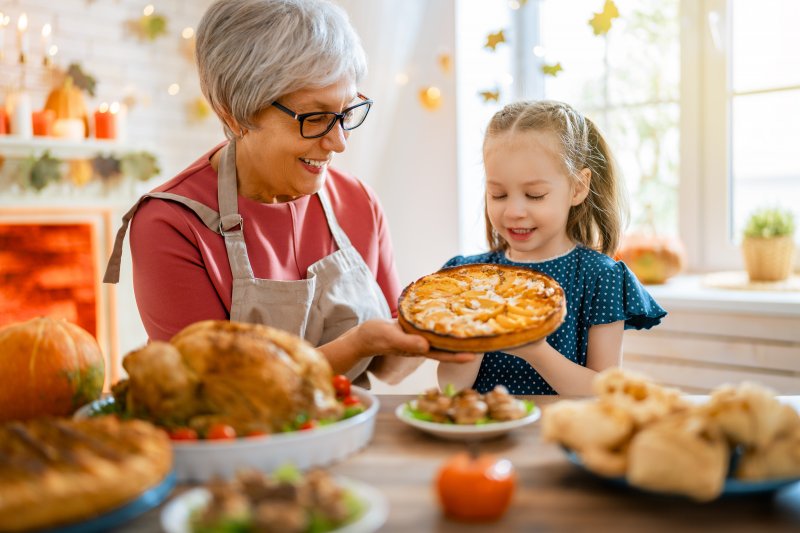 Thanksgiving is just around the corner, so many of us are eager to prepare some of our favorite seasonal dishes, meet up with family and friends, and enjoy a couple of extra days off of work. If you haven't already, this is the perfect time of year to reminisce about all of the things in life that you are grateful for. There are so many – especially if you have dental implants. Read on to learn more about all of the different reasons why you should appreciate your restorations.
Optimal Functionality
Dental implants are placed directly into the jawbone by a dentist via a surgical procedure. The titanium fuses to the jawbone in a process called "osseointegration." This allows for additional stability and can restore up to 90% of your natural chewing power. Other options, like dentures, can only restore around 30% of your natural bite force.
Easy Maintenance
You don't need to stock up on cleaning solutions, adhesives, or special flossers to maintain your dental implants. You just need to care for them how you would care for your natural teeth. Regular brushing, flossing, and rinsing are pretty much all it takes. Don't forget about visiting your dentist for regular cleaning and checkups either!
Natural Appearance
Dental implants look just like natural teeth. No one will even be able to tell the difference. After thorough planning, implants are placed in just the right spot needed to fuse to the jawbone properly. Custom crowns are created to be the exact size, shape, and color necessary to blend in with the rest of your smile.
Long-Lasting
Dentures and bridges need to be repaired and replaced every 5 to 7 years. However, dental implants are a permanent tooth replacement option. They can last upwards of 30 years or even the rest of your life if you care for them properly. With proper maintenance and regular dental visits, you may never have to worry about your missing teeth again.
Prevent Bone Loss
If you're missing teeth, you will eventually be dealing with bone loss. This is because when you are missing the roots of your teeth, your jawbone isn't being stimulated in those areas, so your body will begin to reabsorb it. Dental implants are the only tooth replacement option out there that replace the roots of the missing teeth, therefore stimulating the jawbone and preventing bone loss.
Don't forget to show thanks to your dental implants this Thanksgiving. Because of them, you have a complete smile!
About the Author
Dr. David Tillman earned his dental doctorate from the University of Texas Dental Branch in Houston and is committed to continuing education to keep his knowledge and skills sharp. Currently, he is a Fellow of the International Congress of Oral Implantologists, a Fellow of the Pierre Fauchard Academy, and a Fellow of the International College of Dentists. For more information on dental implants or to schedule an appointment at his office in Fort Worth, visit his website or call (817) 870-4746.