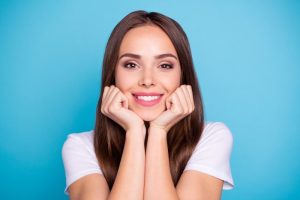 Are you ready for a smile transformation? If you are unhappy with your teeth, veneers or Lumineers can fix an array of dental flaws. Whether you have chipped, cracked, discolored, or gapped pearly whites, these cosmetic treatments can cover them and give you the bright smile you've always wanted. But which one is best for you? Here's what to know about veneers and Lumineers and how you can determine which one is best for your dental goals.
Veneers 101
Veneers are ultra-thin porcelain shells that are designed to cover the front-facing surfaces of your teeth to mask any minor dental imperfections. Before they are bonded, your dentist will prepare your affected pearly whites by removing a small amount of enamel—about half a millimeter—for them to fit perfectly over your teeth. Impressions will be taken, and you will wear temporary veneers while your permanent ones are crafted. Your final veneers will be adhered to your teeth permanently, finally transforming your smile!
These are some benefits of veneers:
Appearance: You can change the size, shape, and color of either one or a whole set of teeth. They'll be custom-designed to match your natural teeth, providing natural-looking results.
Long-lasting: With proper care, your veneers can last 15 years or more. They are very durable and can withstand excessive pressure from chewing, just like your natural enamel.
Stain resistant: Since veneers are non-porous, they will not become easily stained like your permanent teeth. You will no longer have to worry about your smile becoming dull and discolored!
Lumineers 101
Lumineers are another cosmetic dental treatment that also conceals minor dental flaws from your smile. The difference from veneers is that they don't require any preparation of your teeth. The layers of Lumineers are incredibly thin and can be immediately bonded to the front of your pearly whites with a special adhesive without causing it to appear bulky.
Here are several advantages of this treatment:
More affordable: While Lumineers still have a higher initial value compared to many other cosmetic dental treatments, they tend to be less expensive than veneers.
Less invasive: This treatment doesn't involve removing your tooth enamel, making it much less invasive than veneers.
Reversible: Once your tooth enamel is removed, it will not grow back, thus making veneers permanent. Lumineers require no changes to your natural teeth, so you can get them removed whenever you want.
So, Which Treatment Is Right for You?
Both cosmetic dental options are highly effective at completely transforming your smile! They can restore your confidence with attractive, luminous pearly whites. To determine which is best for you, it is essential to have a consultation with your dentist. They can give you a full examination and you can share your smile goals. You both can discuss your preferences, lifestyle, and the results you want to achieve. In addition, they can review the advantages and disadvantages of each procedure so you can make the best decision for your personal needs.
With veneers and Lumineers, your brightest, most beautiful teeth are possible! With this helpful information and an informative consultation with your dentist, you will make the best choice for your smile goals.
About the Author
Dr. David Tillman and his team are committed to providing high-quality, efficient dental care to you and your family! He received his dental degree from the University of Texas Dental Branch in Houston and has completed over 2500 hours of post-graduate dental education. Listed multiple times as "Best Dentist" by Fort Worth Magazine, he can help you achieve your dream smile through either veneers or Lumineers. To schedule a consultation, contact him through his website or call (817) 870-4746.