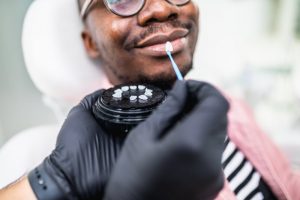 Is there something about your smile you'd like to change? If so, you are not alone. A study conducted by OnePoll found that almost 70% of people wished they could change their teeth. At the top of the list was the discoloration and crookedness. The good news is there are cosmetic dental treatments that can transform your smile quickly and easily. One of the most popular ones is Lumineers! By attaching ultra-thin shells of high-quality dental porcelain to the outer surfaces of the teeth, you can instantly cover any dental imperfections. Lumineers even offer some benefits that veneers don't have. Read on to learn six of them.
#1. Lumineers Are a Non-Invasive Cosmetic Treatment
While traditional veneers can also instantly transform your teeth, they do require some preparation beforehand. Your dentist will have to remove a small portion of tooth enamel from the treated teeth for the prosthetic to fit smoothly and easily. Without making the teeth slightly smaller, the veneers can appear bulky and unnatural. However, Lumineers don't require any removal of enamel or other preparation to the teeth. They simply adhere to your teeth for an instant new smile!
#2. Lumineers Have No Recovery Period
If you choose to get veneers, your teeth will be a bit sensitive for the first few weeks due to the enamel that needs to be removed. On the other hand, since no prior dental work is needed with Lumineers, there will be no discomfort or recovery time.
#3. Lumineers Can Be an Alternative to Braces
Naturally, orthodontics can permanently change your smile in ways that cosmetic treatments cannot. However, if you have minor alignment issues, gapping, or crookedness, Lumineers are a possible option. They can make teeth appear more aligned and close any small gaps.
#4. Lumineers Are Removable
Once you get veneers placed, your smile has now been permanently changed. Since the teeth have had enamel removed, they will always need veneers or other cosmetic treatments. With Lumineers, you can have them taken off at any time since the teeth underneath them remain untouched!
#5. Lumineers Can Correct Discoloration
Over time, your pearly whites can become stained or discolored due to consuming dark beverages or foods. But having white teeth not only makes you look healthier but more youthful too. Lumineers can restore your teeth and make them appear bright and shiny. They truly make your smile luminous!
#6. Lumineers Are Long Lasting
Just like veneers, you can count on Lumineers to last for 15 years or more with proper care. With a consistent oral health routine of brushing and flossing, as well as regular dental checkups and cleaning, your smile transformation will last for years to come!
About the Author
Dr. David Tillman and his team are eager to help you achieve your dream smile! He received his dental degree from the University of Texas Dental Branch in Houston and completed a year-long cosmetic training program at Louisiana State University. Listed multiple times as a "Super Dentist" by Texas Monthly Magazine, he can help transform your teeth through cosmetic treatments like Lumineers. To schedule a consultation, contact him through his website or call (817) 870-4746.