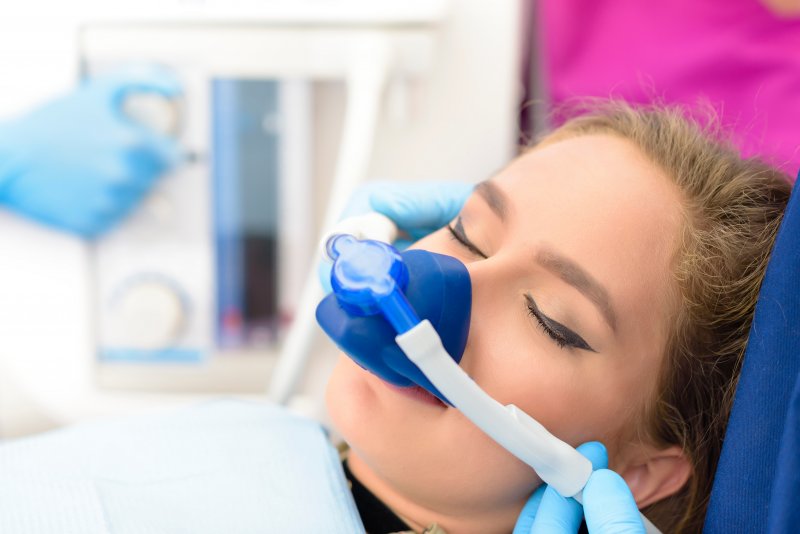 You've likely heard of nitrous oxide if you suffer from dental anxiety. After all, the gas can help you stay calm during treatment! Still, you might wonder whether it's okay for your body. You may even ask yourself, "Is nitrous oxide sedation safe?" Well, you can rest assured: this sedation dentistry is effective and harmless. As for why that's the case, just let your Fort Worth dentist explain. To that end, here's a summary of nitrous oxide sedation and its safety.
What's Nitrous Oxide Sedation?
Nitrous oxide sedation is the mildest form of sedation dentistry. In general, dentists use it to keep patients relaxed for a dental procedure. The result is a smoother treatment than you'd receive otherwise.
Per its name, this sedation has you inhale nitrous oxide through a mask. The inhaled gas – also known as "laughing gas" – then creates feelings of calm and euphoria once it enters your body. Such sensations keep you at ease while the dentist works on your mouth.
Is It Safe to Undergo?
Despite rumors to the contrary, nitrous oxide sedation is perfectly safe. Kids and adults can undergo it without fear of harm.
You see, a dental team takes precautions when using "laughing gas." First, they'll adjust its flow to ensure you receive the proper amount and sufficient oxygen. Their next step is to monitor your vitals throughout the treatment. That way, they confirm your continued safety amidst the procedure.
Furthermore, nitrous oxide rarely has severe side effects. Many who receive it don't have adverse reactions at all. Instead, they find the gas wears off a few minutes after they've stopped inhaling it.
How Could the Service Benefit You?
Of course, nitrous oxide isn't just a good way to treat dental anxiety. It also offers several other perks for dental patients. These include:
Aid for Complex Procedures – If you want to get a few dental procedures in one sitting, nitrous oxide can help. It lets you remain calm so a dentist can perform extended services.
Gag Reflex Reduction – A patient's gag reflex can interfere with dental work. Nitrous oxide, though, prevents the knee-jerk response so a dentist can perform needed care.
Treatment That 'Feels' Faster – Nitrous oxide often "speeds up" a patient's sense of time. As such, it can make treatment feel shorter and less time-consuming.
Little-to-No Recovery – Almost right after you've stopped breathing it, nitrous oxide stops affecting your body. The gas thus doesn't involve a lengthy recovery period; you can resume everyday activities within minutes.
Is nitrous oxide sedation safe? Absolutely, so go ahead and book with your local dental provider!
About the Author
Dr. David Tillman is a certified dentist in Fort Worth, TX, having earned his DDS from the University of Texas Dental Branch in Houston. In fact, he's been listed as a 'Best Dentist' in Fort Worth Magazine and a 'Super Dentist' in Texas Monthly magazine. His specialties are thus high-quality preventive, cosmetic, and restorative dentistry, as well as dental sedation. Dr. Tillman currently practices at his self-titled clinic and can be reached at his website or by phone at (817)-870-4746.