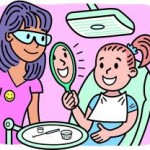 If you have ever considered getting braces but did not want to have a "metal mouth", we have a solution that might be right for you. Have you ever considered Invisalign?  There are some benefits to Invisalign that you might not have considered.
*Enjoy the foods you like: Remove your trays (for a little while) and enjoy your cup of coffee or that bag of popcorn.
*Brush and floss normally: Just take your trays out and brush and floss as normal for optimal periodontal health
*Less office visits: We know you have a busy schedule.  Invisalign allows you to come in for dental appointments less often. Only every 4-6 weeks!!
*Virtual invisible teeth straightening: Since the trays are clear people will hardly know you are wearing them.
*Smooth plastic trays: No metal that could irritate cheeks and gums.
These are just a few benefits of having Invisalign.  Schedule an appointment with Dr Tillman and he can go over all the benefits and convenience of this great option!!