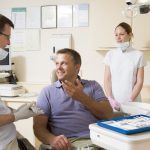 Finding the right Fort Worth dentist isn't as easy as choosing the closest dental office to your home or work. Instead, we encourage you to take a few moments to read this post and learn more about what makes a dental practice right for you and your loved ones. When you find the best Fort Worth dentist to keep you smiling, you'll be happy you spent a little extra time considering all of your options.

Ask a Friend
One of the best places to start your search for a dentist is by asking friends, family members, and coworkers for referrals. When you request recommendations, you should also ask the following questions:
Why do you like the office?
How long have you been going to the practice?
Have you ever had advanced procedures?
Do they accept dental insurance?
In addition to asking people you know for referrals, you can also read reviews online from patients of a dental office. These reviews will give you a better idea of what you can expect when you visit their office.
Check the Qualifications
You should check the qualifications of the dentist and team. This is basic, but it's important to find a doctor who can safely offer all the treatments you need. You can usually check a dentist's credentials online, or you can contact the dental office to ask for information about their dentist's and team members' qualifications.
Review Their Services
Before you schedule an appointment with a caring dentistry team, you should review the services they offer to ensure you can receive the dental treatments you need from their dentists and team. For the most part, general dentists offer similar treatments, but if you are in need of specific services, you should ensure they're available. For instance, if you suffer from gum disease, you should make sure the office provides periodontal therapies. Patients with families should check to see if the practice offers pediatric services and accommodates family scheduling.
Meet Dr. Tillman
At the Fort Worth dental office of David Tillman, DDS, we offer a wide range of treatment options in a comfortable, relaxed environment. Dr. Tillman puts his years of training and dental experience to work, offering patients a wide range of dental treatment options. If you're looking for the best Fort Worth dentist, look no further. We welcome you to our Fort Worth office for all of your dental care needs. Call our team to find out more or schedule an appointment with us. We look forward to seeing you soon.